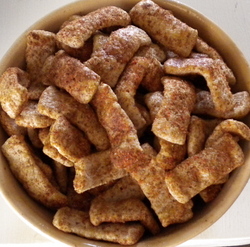 (PRWEB) April 21, 2010
Americans consume on average 3300 mg of sodium/day -- significantly more than the recommended 2400 mg/day and twice the 1500 mg/day level suggested to reduce high blood pressure. Today almost 50% of the 76 million baby boomers have hypertension. A lower sodium intake is not only effective in directly reducing blood pressure, but it may also enhance the effectiveness of high blood pressure medications and other non-drug treatments, such as weight loss. Reduced sodium consumption has also been associated with a reduced risk of dying from a stroke, reversal of heart enlargement, and a reduced risk of kidney stones and osteoporosis.
Even consumers looking to limit sodium are looking for savory snacking items and tasty cereal. Zumbro River Brand, contract manufacturer of snacks and cereals, has developed two new snack and cereal bases with minimal sodium - Ancient Grains Puffs with no appreciable sodium/28 g serving and Whey/Multigrain Scoops with 30 mg of sodium/28g serving. The Whey/Multigrain base also provides 13 mg of protein/28g per serving with both the benefit of low sodium and that of significant protein for muscle building and weight loss plans.
Both of these snacking bases can be flavored with Low Sodium Tomato Basil seasoning to provide 80 mg of sodium/28 g serving for the Ancient Grains Base and 100 mg of sodium/28 g serving for the Whey/Multigrain Base. These same bases can be used in cereal applications with minimal sodium content. Zumbro River Brand can produce and package these snacks on a custom basis for distribution under your label.
Zumbro River Brand has a development team ready to help you design your low sodium snack or cereal. Please contact Hal Volkman at 507-446-9097 ext 103 or Ginny Busch 507-446-9097 ext 102. http://www.zumbroriverbrand.com
###