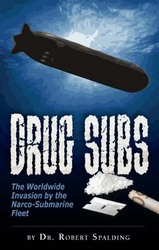 "The first terrorist nuclear weapon detonation on United States soil may actually be delivered by a North Korean built submarine or a Columbian built semi-submersible launched by an offshore commercial ship" Dr. Robert Spalding, author of Drug Subs.
Signal Mountain, TN (PRWEB) April 21, 2010
The newest privately released book on the US market called, Drug Subs (http://www.drugsubs.com) will forever change readers' ideas about the safety net of the United States security.
According to DrugSubs.com, 30% of all the cocaine in the US worth $21 billion dollars is smuggled in by fiberglass semi submersible fiberglass submarines manufactured deep in the jungles of Columbia?
DrugSubs.com reports, North Korea is also supplying drug cartels in Columbia and rouge nations like Iran with deeper operating submarines for drug smuggling and terrorist's missions?
DrugSubs.com informs the reader that the newly discovered secret fleet of narco submarines were for years nicknamed "Big Foot" by the US NAVY because no one in the military had ever seen one until1997 when one was captured.
The book, Drug Subs, written by Dr Robert Spalding is the first factual book in print that describes the history, the current manufacturing process and the future of the clandestine Narco Fleet that now sails world wide with near impunity.
This 37,000 word book is pictorially documented with unique photos of this new underwater threat plaguing not only the United States but Europe, Africa and other countries as well.
Drug Subs outlines how the next major terrorist attack may very well be by our less protected coastlines of the United States rather than by air attack. You can only get Dr Spalding's books through his online store. Go to http://www.DrugSubs.com to order or request a signed copy of his book and read a chapter in this book as well as see other books written by Dr Spalding.
Drug Subs is just one of many successful new little known factual informational books that Dr Spalding has introduced to the general public readers. His first runaway success fact based book in 2006, was called, Death By Pedicure (http://www.justfortoenails.com to order) where he accounts for the first known deaths attributed to poor disinfection procedures in nail salons and dismal outdated training of the US Nail Salon industry.Midwest Book Review that this book is a "chilling indictment on the UIS Nail Salon Industry"
Dr Spalding is the only physician in the US to have ever released an in-depth book to warn the general public of the potential for numerous serious injuries or hospitalizations from a simple manicure of pedicure. From this book was born Dr Spalding's new Medical Nail Technicians (MNT) training program for nails techs to work exclusively for doctors seen at (http://www.medinails.com)
He is also releasing his newest book in May called How to Live Homeless in Style subtitled: 50 ways to Survive on Plastic Bottles in These Economic Times. See amazing stories of homeless survival. This is the only book where you can learn how to build a mousetrap, a battery, even a canoe (http://www.cokefloat.com ) and a homeless shelter (http://www.Homelessinstyle.com) simply out of coke bottles.
This is the only book to notify the general public that the homeless situation in America can lead to the next covert terrorist attack and could be a major new US homeland defense security issue. See real pictures of the Caveman of Signal Mountain Tennessee and how this man survives in spite of his medical handicaps.
This summer, Dr Spalding is releasing two more books that are works of fiction called Death by Manicure, a fictional story about poisoned nail polish causing salon based fatalities in the US.
DR Spalding has finished An American Playground written while he was in medical school that outlines a drug smuggling operation of a new ecstasy like drug called, ROBO under the cover of Disneyworld. This book is based in part on factual aspects of Florida's huge subterranean freshwater cavern systems and the new factual Drug Sub fleet.
Dr Spalding also has a popular evergreen line of children's diversity books called The Kingdom of Fu Fu (http://www.fufufactory.com) which has been "highly recommended for libraries" by Midwest Book Review. His newest Fu Fu series book, The Fu Fu's Go To New York introduces these adorable creatures to the children of New York by way of a "funami".
Dr Spalding just released for the 2010 Christmas season a book called Sara Claus and the Flying Christmas Pigs (http://www.saraclaus.com) . This book is based on a "real" flying Christmas pig you can see on his website.
Finally, in response to the rapidly evolving health care situation, Dr Spalding is releasing his book, D-Day For Healthcare (http://www.Ddayforhealthcare.com) later this summer. Dr Spalding will explain why our previous health care system and the new Obama health care system are both doomed for failure for one simple correctable reason. He explains what system is now working very well and must be followed for any National Health Care plan.
All of Dr Spalding books are published by his company, the Chattanooga Fu Fu Factory on Signal Mountain, Tennessee.
###