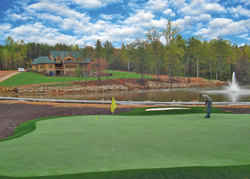 My decision to have Turf Solutions Group install this golf course in 2007 turned out to be one of the best I've ever made
Peoria, IL (Vocus) April 20, 2010
Golf construction company, Turf Solutions Group (TSG), released images of a private estate golf course they constructed on the property of a well known, recently-retired sports figure to demonstrate the potential available to clients with the means and the space to indulge their passion for golf.
Jason Payne, TSG Managing Partner, explained, "We'd love to name our client for the attention that would provide to our work – he's a well-known sports figure – but we respect his desire not be identified. The point of releasing photos of his estate is to demonstrate that individuals can have a championship-level estate golf course. While not everyone has the means to make this investment, the ones who do love the results."
The private foot course features three 5,000 square foot greens that can be addressed from five tees, potentially providing 18 different lengths and angles of tee shots. The tees and greens are situated around a large central lake, so all but one of the tee shots are over water. Tee shot lengths range from 100 to 205 yards. All the tees and greens are covered with easy-to-maintain, natural appearing synthetic turf.
TSG's professional sports client acknowledges that owning his own estate golf course has improved his golf game. "My decision to have Turf Solutions Group install this golf course in 2007 turned out to be one of the best I've ever made," he said. "I love golf and I love getting out there and playing my own course. The synthetic greens play is quite similar to a championship course – they play really 'true.' It feels similar to playing TPC in Scottsdale or Pinehurst's crown greens."
The client describes hiring TSG to build the course as "an excellent experience." "The construction phase was not very long — in this climate we have a month of rain, so TSG needed to work around that," he explained. "They were always very accessible. If I had a question, all I had to do is call. I recommend Turf Solutions Group to anyone that asks who built my course."
To find out how much a golf course on your estate might cost, go to http://www.turfsolutionsgroup.com and click on Fast Quote.
About Turf Solutions Group LLC
With more than 20 years experience in recreational land design and development, Turf Solutions Group (TSG) provides the architects, planners, project managers and construction resources to ensure projects get completed on time and on budget. TSG provides construction design and management in golf and athletic facilities throughout North America and parts of Europe, Asia and Central America. For more information, visit http://www.turfsolutionsgroup.com or contact Holly Emlen at 877.586.1363.
# # #