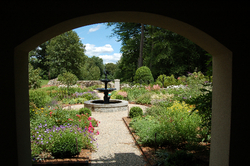 Sixty images of fourteen projects from his residential landscape portfolio are available to the public at www.paulmaueassociates.com.
Andover, MA (PRWEB) April 20, 2010
Landscape Architect, Paul Maue, ASLA, has been practicing his craft with consummate skill for more than twenty years, both as part of much larger landscape architecture firm and as the founder in 1988 of the company that bears his name. Now, for the first time, sixty images of fourteen projects from his residential landscape portfolio are available to the public at http://www.paulmaueassociates.com.
"I have had clients referring new clients for so long, that I never took the time to develop a web site," explained Mr. Maue. "Although referrals remain our biggest source of new business, today every company is expected to have a web site. Our website, http://www.paulmaueassociates.com, is being used as a helpful reference file for consumers and professionals seeking landscape design solutions. It is also used by existing clients to show friends and colleagues the portfolio of the landscape architect they have hired."
With its concentration in Residential landscape Architecture, Paul Maue Associates focuses its design skills within urban, suburban and rural settings. They collaborate with clients, architects, engineers, contractors and interior designers to provide complete site solutions for each project. The company's inspired residential landscape architecture enhances an entire property, compliments the structural architecture, and adds great measurable value for clients.
The results of Paul Maue Associates work have been published in Boston magazine, This Old House magazine, and Tennis magazine, which named one of the firm's projects the "Best U.S. Residential Tennis Court" in their "Best Of" issue. The firm's landscape architecture also won the Outstanding Tennis Facility Award presented by the Tennis and Track Builders Association.
While the firm's work has been concentrated in Eastern Massachusetts, from the North Shore to Cape Cod and Nantucket, as well as in New York's Adirondacks and Hudson River Valley, and in Pennsylvania, Mr. Maue will consider select consultations across America.
The landscape design services provided by Paul Maue Associates include site planning, concept design, schematic design, design development, construction documentation, construction observation, and continuing landscape design consultation after the completion of construction, as well as landscape management plans for ongoing use.
For more information, visit http://www.paulmaueassociates.com, send email to info(at)paulmaueassociates(dot)com, or contact Paul Maue Associates, LLC, 48 Bellevue Road, Andover, MA 01810; TEL: +1 978 470-2299; FAX: +1 978 470-1054.
# # #