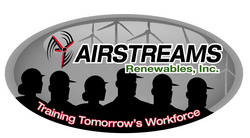 "This is such a great opportunity for our service men and women and we are thrilled to be branching out into the renewable energy sector", Chris Lopez, TroopTransition, VP Placement Services.
Tehachapi, CA (PRWEB) April 22, 2010
Airstreams Renewables, Inc. is now offering its industry leading accelerated wind turbine technician training program through an on-base training partnership with Troops 2 Energy, a career transition program for active duty military personnel.
The program is set to commence with its first class starting 4/19/10 on USMC Camp Pendleton. The course will take place on-base at night and on weekends so that service men and women become qualified to compete for entry level renewable energy/wind jobs. Upon completion of the 8-week training, graduates will receive placement assistance through TroopTransition (T2E) and Airstreams Greenjobs Placement Services (GPS). With the current unemployment rate throughout the US being so high, interest in this particular program (alternative energy production) is extremely high. "This is both exciting and honorable for our company to be involved with our military in this way", Dave Schulgen, Airstreams CEO, and former Marine himself.
TroopTransition is an on-base training provider that has been successfully operating two other military specific transition programs, Troops 2 Truckers and Troops 2 Roughnecks. Troops 2 Energy will focus on the red hot Renewable Energy Sector and positioning returning veterans into successful careers in an industry that is expected to grow significantly over the next several decades to come.
Airstreams Renewables, Inc. (ARI) is committed to providing career-focused training and educational programs in the renewable energy sector based on skill sets designed to meet industry standard expectations for both entry level and advanced construction and service technicians. Our courses are taught by industry experts with over 200 years of combined experience in the wind and renewable energy industry. For additional information visit our website and learn how we can meet your renewable energy training needs.
# # #