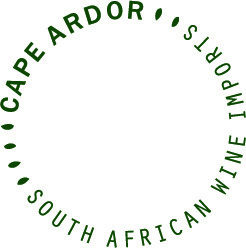 San Francisco, CA (PRWEB) April 20, 2010
Cape Ardor has announced the Celebrate South Africa 2010 – Wine Tastings scheduled for May 3rd in Los Angeles and May 6th in San Francisco. These events will showcase wines from some of the United States' top importers of South African wine. Wines will be poured from over 50 producers, many of whom will be present to meet and discuss the future of South Africa's wine industry with the trade, media and consumers.
Cape Ardor is producing these events as part of a comprehensive strategy to raise industry and consumer awareness of the fine wines of South Africa. They are working with other importers and advocates to jointly promote the South African wine category. We will have representation from the portfolios of Boutique Wine Collection, Cape Ardor, Fairest Cape, Heritage Link Brands, Maritime Wine Trading Collective, Smith Wines, Southern Starz, Vineyard Brands, Vinnovative and Worthwhile Wine. In all, over 100+ wines will be available for tasting.
This will kick off a series of tastings scheduled throughout May including the Wines of South Africa (generic wine marketing body for South Africa) Great South African Wine Show scheduled for May 11th in New York City and May 13th in Montreal.
Cape Ardor's co-founder, Kara van Niekerk, stated, "With anticipation building for South Africa as host of the 2010 FIFA World Cup many Americans will be traveling to South Africa to experience the games, wine and culture. We can't think of a better time to give them a preview of the great producers already in the US."
When asked, "Why the West Coast?" Cape Ardor founder Eric Matkovich replied, "The West Coast is often overlooked due to the added geographic challenges producers face when coming to the US. These events provide the necessary platforms to give the West Coast trade and consumers a first look at some really great wines and hear the stories behind them."
He adds, "South Africa's time is now. It is a rising star on the world's wine producing scene. We feel that collectively South Africa is one of the most progressive wine producing regions in the world that is not only producing excellent wines, but pioneering sustainability initiatives and promoting fair trade practices. This is the message that a lot of people in the US need to be exposed to."
Wine writer and educator Joanna Breslin says "Since the establishment of democracy in 1994, South Africa has made a dramatic entrance onto the world wine stage. The exponential rise in wine quality is very exciting, and I have been raving about it since my travels there in 2008. These tastings will provide a wonderful opportunity to try the wines and meet some of the dynamic people behind them."
Celebrate South Africa will feature both a daytime trade event and an evening consumer event. For the consumer portion, Cape Ardor partnered with some African Wine + Culture Society representatives to provide a broader context for the South African wine experience. Featured will be some up and coming folks in the art and culinary scene, including London / Cape Town photographer Alistair Vlok, chef Eskender Aseged of Radio Africa & Kitchen , and local artist Andy Olive.
When & Where?
Celebrate South Africa 2010 – Los Angeles (May 3rd)
Vinoteque on Melrose
7469 Melrose Avenue
Los Angeles, CA 90046
Register for the Trade Event (11AM – 4PM)
Get Tickets for the Consumer Event (7PM – 11PM)
Celebrate South Africa 2010 – San Francisco (May 6th)
The Box SF
1069 Howard Street
San Francisco, CA 94103
Register for the Trade Event (11AM – 4PM)
Get Tickets for the Consumer Event (6PM – 10PM)
About Cape Ardor:
Cape Ardor is a South African wine importer, distributor and consumer direct retailer that is focused on value & quality as well as promoting the South African wine industry as a whole in the United States. Details on their portfolio as well as upcoming events can be found at Cape Ardor LLC.
###