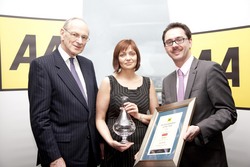 Research has shown that the state of the bedroom is the single most important factor in deciding a guest's future return to a hotel.
(PRWeb UK) April 22, 2010
Jovita Kit, who received her award at a lunch held at 3 AA Rosette-awarded restaurant, Galvin at Windows in London, joined The Egerton House Hotel in 2001 and has worked her way up to taking on the role of Executive Housekeeper in May 2008. Jovita manages a team of 9 housekeepers at the hotel, taking responsibility for all aspects of room preparation and training of her team.
The annual award, sponsored by Northmace & Hendon Limited, manufacturers of specialist products for the professional hotelier, recognises outstanding commitment and performance, identifying a housekeeper who goes above and beyond the call of duty.
The judges revealed that Jovita was selected as the overall winner not only due to her housekeeping standards, which are consistently of the highest quality, but also due to her attention to detail, her pride in her work, and her dedicated commitment to ensuring that her team of staff are happy and motivated.
The two runner-up awards go to Paula Seddon, Housekeeper at Northcote in Langho, Lancashire; and Stephanie Wooldridge, Housekeeper at Northcote Manor Hotel, Burrington, North Devon.
Simon Numphud, AA Hotel Services manager and one of the judges for the award, commented, "We are delighted to recognise Jovita Kit, whose commitment to The Egerton House Hotel and its workforce has produced such commendable results, as the AA Housekeeper of the Year 2010. This year we are also proud to acknowledge the two runners-up Stephanie Woodridge from Northcote Manor, and Paula Seddon from Northcote, whose dedication and enthusiasm also merit recognition."
Rudi Plaut CBE, Chairman of Northmace & Hendon Limited, said: "Research has shown that the state of the bedroom is the single most important factor in deciding a guest's future return to a hotel. Like all businesses, the success of a hotel depends upon its loyal, repeat customers or guests, so housekeeping is at the very heart of the establishment.
"Northmace congratulates Jovita Kit on beating such strong competition from many worthy housekeeping professionals to win this year's coveted title of AA Housekeeper of the Year. Like all good housekeepers, it is the leadership that she provides for her team at The Egerton House Hotel, including their training and development, that produces such outstanding results. Of course a part of that leadership is the example which she sets by the combination of her personal commitment and development.
"Congratulations too must go to the worthy runners-up who also showed the great professionalism which is necessary for making the pivotal position of Housekeeper a success, making the final decision on the winner a close call."
NOTE TO EDITORS:
The AA has been recommending and acknowledging hotels since 1908, and in 2008 celebrated 100 years of excellence in the hospitality industry. AA Housekeeper of the Year is a branch of the AA's well-established Hospitality Awards, which cover the finest of all AA-inspected and rated hotels, restaurants, and B&Bs. These accolades are presented in recognition of all-round excellence, unfailing standards and outstanding service, as well as acknowledging the vital role played by those individuals who work to maintain the highest of standards within the industry. The 2010 AA Hospitality Awards event will take place at the London Hilton on Park Lane on 27 September 2010.
AA Publishing produces a series of lifestyle guides, covering every aspect for planning leisure pursuits - from hotels, pubs, B&Bs and restaurants, to days out, golfing, caravanning and camping, or family and pet friendly accommodation – the guides feature over 14,000 inspected, selected and recommended establishments; offering the UK traveller an unparalleled choice of places to stay, eat, drink or play a round of golf in England, Scotland, Wales, Ireland and the Channel Islands.

Unfortunately, there is a typo on Stephanie Wooldridge's runner-up certificate – it is Wooldridge, not Woodridge. A replacement is being issued.
Find Information on contents insurance available from The AA online at http://www.theaa.com/insurance/home-contents-insurance.html.
###