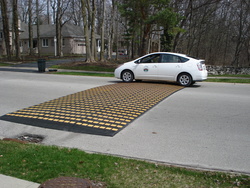 "Residents called to thank us," said Mr. Kashman.
(PRWEB) April 22, 2010
When construction is being done on a busy street, it's only natural for cars to choose another local street to use instead. But how can you stop them from speeding at main street speeds despite small street speed limits? Carmel, Indiana was determined to figure that out. With the help of Traffic Logix speed tables, the city now has a construction area program that keeps residents on local roads safe.
Carmel has been at the forefront of traffic innovation for almost 100 years. In 1924, the city was one of the first in the country to install automatic traffic signals. Today, they have nearly 50 roundabout intersections keeping roads safe throughout the city.
In 2009, the city of Carmel created an innovative construction area program that installs speed tables on local roads parallel to construction sites. With the city currently in the process of constructing 6 interchanges on major city roads, traffic is often redirected to quiet residential streets nearby. This creates a hazard on local streets, as many motorists continue to drive main street speeds on side roads. The goal of the speed table program is to keep the side roads safe while cars use them to avoid construction sites.
The third interchange constructed was at Keystone Parkway and 136th street. Keystone is a major thoroughfare with a speed limit of 50 mph. During the construction, cars began to use parallel Hawthorne Drive instead. Hawthorne is a quiet residential street with a speed limit of 30 mph. Soon after traffic was diverted, residents began complaining of the cars speeding by.
"We were getting 4 or 5 phone calls or emails a day complaining about the speeds," said Jeremy Kashman, the Project Manager of the Keystone construction project. "It was clear we had to do something."
City engineer Mike McBride researched the options to slow traffic temporarily on streets adjacent to construction sites. He chose Traffic Logix rubber speed tables to slow cars to the posted speed limit on Hawthorne Drive.
The city didn't want to install speed bumps that would be jarring to cars as they drove over them. The speed tables have a gradual incline and a flat top so that they slow cars over a length of space, instead of all at once.
The City purchased the portable speed tables last April and installed them on Hawthorne Drive. The complaint phone calls and emails weren't reduced- they virtually stopped. "Residents called to thank us," said Mr. Kashman.
In the months since, the speed tables have been moved to two new local roads that run parallel to construction sites. The portable tables are easy to remove and reinstall. The interlocking units allow the Carmel crews to change the product width so that they can be interchanged between narrow and wider roads.
A few weeks ago in early March, Carmel purchased another three speed tables to add to the four they already have. These tables will also be used near city road construction.
Cars in Carmel still use small local streets when main streets are under construction. But thanks to Traffic Logix, they aren't speeding on them.
###