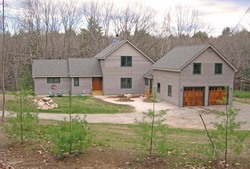 "We are pleased to have the Dewey's representing our timber frame homes in Maine. Their own experience as timber frame clients is invaluable to those building a new home." Davis Frame, President Jeff Davis
Claremont, NH (PRWEB) April 22, 2010
Davis Frame Company Inc., timber frame home manufacturer located in Claremont, New Hampshire announces the hiring of Independent Representatives Dream Timber Frame Homes. Owners Dave and Jackie Dewey will serve Davis Frame Company's clients building new timber frame homes and projects in Southern Maine and Coastal New Hampshire. The Dewey's have recently finished building their new Davis Timber Frame Home in York, Maine and it will serve as their model home.
Dave's background includes 25 plus years of building and renovating carpentry experience running his own remodeling company. In 1994 he began his volunteer experience as a founding board member of the Hartford, CT affiliate of Rebuilding Together, Inc., a nationwide non-profit organization that repairs the homes of low income elderly, disabled and families with children. He served as their board President for two years as well as serving on most of the committees. During the next 15 years, Dave worked hands on building and remodeling 15 homes and developed work scopes for over 200 others.
Jackie has been in partnership with Dave in the carpentry business all while being employed as a Human Resource Manager. For the last five years, Jackie and Dave were in the real estate business renovating houses in Connecticut and placing them back on the market. With this experience and all the decisions that must be made to build a new home, Jackie brings the ability to help with design ideas for practicality and functionality.
To contact Dream Timber Frame Homes to schedule a tour of their timber frame home, call (207) 361-7015.
About the Davis Frame Company
Over two decades ago, Jeff Davis and Rick Bascom realized they shared a common dream: to build the finest custom-designed timber frame homes http://www.davisframe.com/timber-frame-homes). Together they formed the Davis Frame Company. Both dedicated artisans, they have consistently attracted like-minded individuals to work with them who share the same ideals of quality, collaboration and an unrelenting passion for the trade. Every home by Davis Frame is both an expression of these values and a reflection of the owner's desires.
Davis Frame designs and manufactures energy efficient and luxury timber frame and post and beam homes. The company also builds heavy timber trusses, commercial timber frames, prefabricated timber trusses, prefabricated timber bents, timber frame homes, barn homes, timber frame additions, stairs, and porches from a variety of wood species. Davis Frame also provides Structural Insulated Panels (SIPS), Eagle and Integrity windows, pre-finished T&G, cedar siding and trim, custom fir railing, and a variety of other building products.
Visit Davis Frame Company's website to learn more about their timber frame homes or call 800.636.0993 today.
Contact:
Molly Gagnon, Marketing
Davis Frame Company
513 River Rd.
Claremont, New Hampshire
1-800-636-0993
###