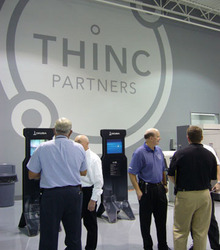 "Our partners represent the best suppliers in their respective categories and we are pleased they have chosen to partner with us to help manufacturers solve their most challenging problems" - Jeff Estes, Director of Partners in THINC
Charlotte, NC (PRWEB) April 22, 2010
Okuma America Corporation is pleased to announce that KUKA Robotics, Mastercam, Mayfran, and SMW Autoblok have all joined Partners in THINC, a unique collective of suppliers operating in the machine tool industry. Manufacturers can use Partners in THINC as a resource for solving manufacturing problems and improving metal cutting operations.
Partners in THINC is built around the Okuma machine tool control – THe Intelligent Numeric Control (THINC) – the world's first Windows™-based machine tool control. This unique control allows easy connectivity of peripheral equipment and accessories and its API makes it easy to develop custom applications to improve manufacturing productivity.
KUKA Robotics core competencies include the development, production and sales of industrial robots, controllers, software, linear units and omniMoves™. KUKA robots are utilized in a diverse range of industries including appliance, automotive, aerospace, consumer goods, logistics, food, pharmaceutical, medical, foundry and plastics industries.
Mastercam offers solutions for designers and NC programmers in a spectrum of industries, including milling, turning, wire EDM, router programming, plasma cutting, lasers, and 3D design and drafting. CNC Software's customers range from one-person job shops to Fortune 100 manufacturers. The same software that is utilized by corporations such as Boeing, IBM, and Sikorsky is still affordable enough for the small job shop. Mastercam also makes its software available to educational institutions at discounts to ensure a new generation of trained metal and woodworking personnel is available.
Mayfran provides solutions for chip and coolant management in metalcutting applications to help improve machine tool uptime, improve product quality through coolant filtration, and reduce overall operating costs. Their products convey, filter, separate, shred, briquette and process materials and fluids for the automotive, aerospace, consumer products, oil and gas, steel processing, medical products, heavy equipment and related industries.
SMW Autoblok is a premier manufacturer of rotating hydraulic and pneumatic chucks, expanding mandrels, collet chucks, hydraulic self centering steady rests, hydraulic cylinders, pneumatic cylinders and a full line of driven tooling. Offering the broadest standard range of workholding products currently offered on the market, SMW Autoblok's basic philosophy is to meet or exceed customer expectations whether an out of the box, or an engineered solution.
These four companies join twenty-eight others as members of Partners in THINC and can be seen at the Partners in THINC facility in Charlotte, NC or at the Okuma Tech Centers in Chicago and Houston. For more information or to schedule a visit, go to http://www.partnersinthinc.com.
###