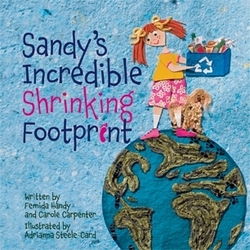 (Vocus) April 21, 2010
Parents and teachers can use this colorful new picture book by Second Story Press to talk to children about the concept of their eco-footprint and the idea of environmental responsibility.
Sandy's Incredible Shrinking Footprint begins with Sandy visiting her grandpa's house by the beach, where she goes every summer. She and her dog Pepper play in the sand and surf, chasing the seagulls. But on this day her walk on the beach is ruined when she comes across the garbage left from someone else's picnic. Sandy and Pepper are joined by the "Garbage Lady," who helps pick up the mess. She explains to Sandy that everyone has an ecological footprint – the mark they leave on the world – and that it is their responsibility to shrink it. Sandy is impressed, and runs home to tell her family.
A wonderful exploration of personal responsibility and the impact of what we consume on the environment, Sandy's Incredible Shrinking Footprint ends with a list of everyday actions we can all do to shrink our footprint. The book is fittingly illustrated with a unique collage technique using recycled and natural materials. If you look closely you will find fish made from leaves, clothes made from flower petals, people made out of birch bark, grass made from fiber and a host of other surprising materials. The book is printed on Forest Stewardship Council (FSC) certified paper. Second Story Press is committed to producing children's books that entertain, educate, and empower.
Sandy's Incredible Shrinking Footprint is written by Femida Handy and Carole Carpenter, and illustrated by Adrianna Steele-Card. Femida is a professor of Environmental Studies at both York University and the University of Pennsylvania in Philadelphia. Carole established the world's first Children's Studies program in 2006 at York University in Toronto. Adrianna Steele-Card has chosen to use materials that are a combination of natural and recycled items, highlighted by paints and fibers, for her unique collage art.
###