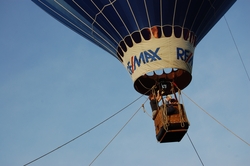 It's truly exciting to see Big Max in action, and even more exciting to be in the basket, says Broker/Owner Paul Turcotte. Join us for a memorable experience, seeing the massive RE/MAX balloon in the heart of the city. Bring the family, and your camera
Cambridge, MA (PRWEB) April 22, 2010
The RE/MAX hot air balloon, Big Max, will return to the Cambridge Common on Sunday May 2nd from 3:00 to 5:00 PM, weather permitting, to offer tethered balloon rides. RE/MAX Destiny, an independent real estate company that represents home buyers and sellers in the Boston area] brings the balloon to the common twice a year in support of local charities. A repeat performance is scheduled for Oktoberfest. Learn more at http://www.HarvardSquare.com.
Imagine stepping into the basket of a seven story hot air balloon. The gas jets roar as you look up inside this massive red, white and blue expanse at the flames shooting up ten feet or more. Then with a gentle nudge you're off; floating up into the sky and watching the crowd below become smaller and smaller. "It's truly exciting to see Big Max in action, and even more exciting to be in the basket," says Broker/Owner Paul Turcotte. Join us for a memorable experience, seeing the massive RE/MAX balloon in the heart of the city. Bring the family, and a camera.
Donations will be accepted in exchange for tethered (yes it's tied down) balloon rides to benefit two local charities: Our Place, homeless children center, which provides quality daycare for over one hundred children per year through The Salvation Army, and Cambridge Housing Assistance Fund, CHAF, a public/private partnership spanning twelve years that brings local Realtors, banks, businesses and individuals together to assist homeless families and individuals get settled into their own homes through HomeStart, a Boston based non-profit.
To see Big Max in action visit Hot Air Balloon Rides on the Common
RE/MAX Destiny is an independent real estate company with 40 associates and a proud member of the RE/MAX Network of nearly 100,000 real estate professionals in 80 countries.
No One Sells More Real Estate Than RE/MAX
###