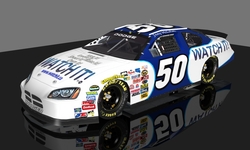 "Our customers are fresh, fashionable and live life in the fast lane. Supporting NASCAR's most promising young star, Joey McColm couldn't have been a better fit or come at a better time."
Toronto, ON (PRWEB) April 21, 2010
Canadian watch retailer, WATCH IT! is proud to announce their partnership with NASCAR's youngest star, Joey McColm for this summer's 2010 NASCAR Canadian Tire Series taking place in six provinces across Canada.
The nation's top boutique watch retailer, WATCH IT! has been helping Canadians keep time since 1999. Today, WATCH IT! is known for their stylish watches, sunglasses and accessories, and above all, impeccable service. WATCH IT! President Darren Bondar is thrilled at the new partnership, "Our customers are fresh, fashionable and live life in the fast lane. Supporting NASCAR's most promising young star, Joey McColm couldn't have been a better fit or come at a better time." Within the past year, WATCH IT! has launched three new retailers across Canada growing the business exponentially despite the tough economic environment.
At the ripe age of 24, Joey McColm is not only the youngest driver taking part in NASCAR Canada, but is also one of the most ambitious, "It's sponsors like WATCH IT! that allow me to continue to do what I love. I look forward to being WATCH IT's ambassador at the NASCAR Canadian Tire Series this year. Their story of entrepreneurship, growth, and dedication to its clients is inspiring for me as an entrepreneur myself. I am very proud to sport the WATCH IT! brand at this summer's NASCAR races!"
With Atto Insurance and Dodge as existing partners, WATCH IT! will hold the presenting sponsor position for Edmonton, AB, Vernon, BC, and Saskatoon, SK and will maintain a primary sponsorship position across the Ontario and Québec regions with their fully wrapped Dodge Avenger powered by carbureted V8 engines traveling through every stop on the tour.
In its fourth year, this summer's 2010 NASCAR Series promises to be an exhilarating event with 13 dates at 13 of the country's top racing tracks across six provinces, with the addition of a new-shared date with the Indy Car Series in Toronto. Close to 7 million fans in Canada alone will watch as Joey McColm and his team, "Team 50 Watch It! Nation" goes for the gold!
Starting May 2010, we invite media to take a "thrill ride" in the official WATCH IT! NASCAR vehicle with Joey McColm. Experience first-hand the intense excitement of race driving and TAKE THE RIDE OF YOUR LIFE! Interested media should email: Winston@lotusleaf.ca
2010 NASCAR Canadian Tire Series Dates:

June 5 – London, ON @ Deleware Speedway
June 13 – Bowmanville, ON @ Mosport Int'l Raceway
July 3 – St. Eustache, QC @ L'Autodrome St. Eustache
July 17 – Toronto, ON @ Honda Indy Toronto
July 25 – Edmonton, AB @ Rexall Speedway
July 31 – Vernon, BC @ Sun Valley Speedway
August 4 – Saskatoon, SK @ Auto Clearing Speedway
August 21 – Bowmanville, ON @ Mosport Speedway
September 11 – Barrie, ON @ Barrie Speedway
September 25 – Peterborough, ON @ Kawartha Speedway
About WATCH IT!
In November 1999, WATCH IT! launched its flagship boutique in Edmonton, Alberta offering fashionable timepieces including Nixon, Diesel, Casio, Timex, Guess, Oakley, Spy and high-quality service. Today, WATCH IT! maintains its fundamental mandate while also adding sunglasses and accessories to the mix. Through strong partnerships with franchisees, WATCH IT! continues to flourish as one of Canada's most well-recognized boutique retailers in the Canadian retail industry. With impeccable customer service at the forefront of WATCH IT!'s mandate, owner Darren Bondar received the Henry Singer Award for Outstanding Alumni with a Career in Retailing, and placed in the top three at the 2009 Canadian Franchise Association Award of Excellence. WATCH IT! currently has 21 locations across Canada including six corporate stores and 15 franchises. For more info and a full retailer listing link to: http://www.watchit.ca
About Joey McColm
Born in Ajax, ON, at just 24, Joey McColm is lauded as one of the youngest and brightest drivers in the Canadian NASCAR series. Joey McColm began his career racing mini stocks at the age of fifteen in weekly Saturday events. Since then, he was mentored by brothers Giulio and Rino Montanari on all aspects of racing from fabrication, set-up, and driving skills. By age seventeen he was competing in Late Model cars. In 2006, Joey McColm began racing at the National level where he appeared in four CASCAR Super Series events and competed the full season of the CASCAR Sportsman Series. A year later, the NASCAR Canadian Tire Series was introduced and Joey participated in 8 of the 12 events finishing twice in the top ten. He is currently attending Toronto's Ryerson University in his final year for Civil Engineering specializing in structures and transportation.
About NASCAR & Canadian Tire Series
The National Association for Stock Car Auto Racing Inc. (NASCAR) is the sanctioning body for one of North America's premiere sports. The NASCAR Canadian Tire Series launched in 2007 replacing CASCAR's Super Series when NASCAR purchased it in September 2006. The NASCAR Canadian Tire Series is Canada's Premiere racing series and only National Championship. NASCAR Canada has proven to be a successful sponsorship venture for a number of Canada's top Fortune 500 companies. Through its partnership with Canadian Tire and TSN, NASCAR has built on Canada's position as one of the leading motor-sports markets in the world, with series highlights in some of Canada's major markets: Toronto (and GTA), Montréal and Edmonton.
For more info and updates on appearances by Joey McColm link to: http://www.watchit.ca | http://www.nascar.ca
For press info and/or hi-res images contact:
Winston Ma, Lotus Leaf Communications | 416.928.1978
Julia Che, Lotus Leaf Communications | 416.928.1978
###