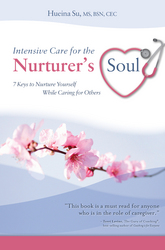 "Intensive Self-Care is NOT being selfish and it's NOT a luxury, but rather an essential practice for your survival and overall well-being." -- Hueina Su
Denville, NJ (PRWEB) April 21, 2010
Hueina Su, The Nurturer's Coach, is on a mission to bring the message of self-love and Intensive Self-Care to make a difference in more than one million women nurturers with her latest book, Intensive Care for the Nurturer's Soul: 7 Keys to Nurture Yourself While Caring for Others. The book is detailed at http://www.intensiveselfcarebook.com and is available at Amazon.com on April 22, 2010.
Su is an internationally recognized speaker and expert in helping people find the missing peace and balance in their stressful lives. A fourth generation medical professional, Su was a born nurturer. As a former registered nurse, counselor, certified life coach and a mom of two, Su experienced and observed the demands and stress of being responsible for someone else's daily care. She recognizes that caregiving is as rewarding as it is exhausting, but too often we sacrifice our own well-being and happiness because nobody ever showed us how to manage it all.
"My lifelong journey as a caregiver inspires me to write Intensive Care for the Nurturer's Soul as an interactive guidebook for all moms, caregivers, healthcare professionals and other nurturers who need tender loving care for themselves," says Su, President and Founder of Beyond Horizon Coaching based in Denville, New Jersey.
Now, in Intensive Care for the Nurturer's Soul, Su explores in depth caregiver concerns:

Recognizing Self-Care Deficiency Syndrome and what to do about it
Resolve the feeling of overwhelm
Finding joy and serenity in the present moment
Restore peace and calm when life is spinning out of control
Creating life balance to avoid caregiver burnout
How to clear out emotional clutter for lasting inner peace
Finding peace in the face of death and grieving
The self-coaching session at the end of each chapter allows readers to deepen their learning and personalize their action steps.
Su's book has received high praise from top experts in this subject.
"Hueina Su has written an excellent book for health care professionals, caregivers and all nurturers. As a public health care and patient advocate, I have worked with many doctors, nurses, cancer survivors and caregivers over the years. I have noticed that, all too often, we health care professionals don't always practice what we preach. As a result, we are very prone to stress and burnout," says Dr. Ming-der Chang, Vice President of Asian Initiatives, American Cancer Society Eastern Division.
"Hueina's book is a timely reminder for all of us to put our own health and well-being as a top priority, while we attempt to take care of our patients and loved ones. Through her personal story and coaching exercises, Hueina offers patients and caregivers inspiration, hope as well as practical tools for better self-care, joy and fulfillment," Chang says.
Corrie Woods, author of The Woman's Field Guide to Exceptional Living, echoes her voice, '"As a recognized expert in the field of self-care for caregivers, Hueina Su writes eloquently about the need for caregivers to nurture themselves with the same commitment, passion, and soul that they nurture others. She offers practical advice, personal experience, and compelling reasons to make self-care a priority. This book is a fabulous contribution and one I will be enthusiastically sharing with my clients and colleagues."
"The world needs more advocates for intensive self-care like Hueina!" says Renee Peterson Trudeau, author of The Mother's Guide to Self-Renewal: How to Reclaim, Rejuvenate and Re-Balance Your Life. "The importance of self-nurturance is a powerful message that millions of women around the globe need to hear."
Su is on a mission to bring the message of self-love and Intensive Self-Care to one million women nurturers. Top supporters include Dr. Joe Vitale, Mark Victor Hansen, Marci Shimoff, Terri Levine and Sallie Felton - just a few of the dozens who offer an amazing array of valuable bonus gifts with the purchase of the book.
On April 22, Intensive Care for the Nurturer's Soul will be available on Amazon.com, as well as marketed via newsletters, blogs, websites, social networks and book mark sites. Its release is well-timed for the upcoming Mother's Day.
"Intensive Self-Care is NOT being selfish and it's NOT a luxury, but rather an essential practice for your survival and overall well-being," Su says. "This is a book that will touch the lives of all who read it, from mothers to adult children caring for an aging parent, to professional healthcare workers. This book is a must read for anyone who is stressed and overwhelmed in their caregiving roles."
For more information about the book and special bonus gifts, visit http://www.intensiveselfcarebook.com.
About Hueina Su and Beyond Horizon Coaching
Hueina Su, MS, BSN, CEC, The Nurturer's Coach(TM), is a renowned expert in helping people restore the missing peace and balance in their stressful lives. Su is a professional keynote speaker, certified life coach, and author of Intensive Care for the Nurturer's Soul: 7 Keys to Nurture Yourself While Caring for Others. She is the creator of Rx for Balance(TM), The Coaching Oasis(TM), and Nurture and Grow Rich(TM) programs.
Su is the founder and president of Beyond Horizon Coaching, a global coaching and training company, specializing in providing solutions for work-life balance, stress management, and Intensive Self-Care through personal coaching, executive coaching, teleseminars, keynote presentations, team-building training, and other wellness services.
To sign up for free stress management video e-course and learn more about Su's coaching, keynote speaking, training services and products visit http://www.HueinaSu.com.
Note: Hueina Su's full bio and additional photos http://www.HueinaSu.com/media-room.
She is available for interviews and can provide a list of tips and other articles. Call 973-664-0446 or 201-572-3641or email Hueina(at)BeyondHorizonCoaching(dot)com.
# # #