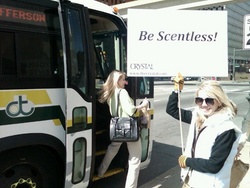 We've been in the natural deodorant business for 26 years and thought the students might want a natural alternative
Cambridge, MA (PRWEB) April 20, 2010
Crystal™ is at it again. Last month, the California based company, creators of the award winning Crystal Body Deodorant™ and Crystal essence™ responded to a legal ban on scented products in three Detroit Federal buildings by giving away free deodorant in the Motor City. This week, a team of "Crystalians" will be at the Massachusetts Institute of Technology in Cambridge, MA giving away free, all natural deodorant to students who have been complaining about body odor in the classroom. "We heard that MIT was offering students a care package including soap and mouthwash – which was great. But the deodorant in the care package wasn't a natural product," said Jerry Rosenblatt, Founder and CEO of parent company Crystal™. "We've been in the natural deodorant business for 26 years and thought the students might want a natural alternative."
The 26-year-old company sells its natural unscented Crystal Body Deodorant™ Roll-Ons, Sticks and Body Sprays in over 28,000 retail locations, including CVS, Walgreens, Rite Aid, Whole Foods as well as on Drugstore.com. The team of Crystalians will be handing out the company's newest product, the unscented Crystal Solos™ a 100% biodegradable deodorant towelette, to consumers in and around the MIT campus on Wednesday, April 21 and Thursday, April 22.
Crystal Body Deodorant™ products are safe and effective. They contain no aluminum chlorohydrate, no parabens, no phthalates, and are hypoallergenic. Crystal™ deodorants are composed of mineral salts, which form a topical layer on the skin, making it impossible for odor-causing bacteria to grow. All Crystal™ deodorants are non-sticky,and will not stain clothing (even the most delicate fabric). They leave no white flakes or residue on the skin, are environmentally safe and are easy to use. Crystal Solos™ are available in 5-, 10- and 30-unit packages on the Crystal™ web site at http://www.thecrystal.com.
About Crystal™:
French Transit, Crystal's parent company, was founded in 1984 by Jerry Rosenblatt. The introduction of the company's renowned Crystal™ Rock deodorant immediately put French Transit on the map as an early innovator of all-natural personal care products that were free of harmful chemicals.
Since that time the Crystal™ family of products has grown to more than 20, including Crystal Body Deodorant™ Stick, Crystal Body Deodorant™ Roll-On, Crystal Body Deodorant™ Body Spray, Crystal™ Foot Deodorant Spray and Crystal essence™ line which was introduced last spring. Crystal™ has received three consecutive awards (2008 – 2010) from Better Nutrition Magazine in their annual Best of Beauty competition and recently earned an award from Natural Health Magazine in the UK for Best Natural Deodorant.
Crystal™ is committed to developing products that support its customers' desire to protect their health and the planet on which they live. Crystal™ has not and never will test its products on animals and is a supporter of Leaping Bunny and PETA and donates generously to cancer fighting causes.
Crystal™ products are available worldwide in over 28,000 stores, as well as online at Drugstore.com, Amazon.com, and http://www.thecrystal.com.
Contact:
Larry Friedberg
Vice President, Marketing
650-548-9600 x112
larry (at) thecrystal (dot) com
###