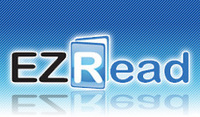 "All books are sold under Epub or PDF format, no one is left out of the party because of their reader."
San Jose, CA (PRWEB) April 22, 2010
EZRead.com's new online eBook store launches this week, providing a wider range of book choices to eBook reader devices of all types. With over 200,000 pay titles, and the gigantic free Google library all at a reader's finger tips, EZRead.com has more choices than most sane people can handle. All books are sold under ePub or PDF format, no one is left out of the party because of their reader. From Sony, the Bookeen, the Nook, to Astak, EZRead.com has got its back. Membership is free, many classics are available for free, and unlike the library, they won't give members a book with coffee stains and cigarettes stuck between the pages.
Searching for, purchasing, and downloading books couldn't be easier at EZRead.com. With over 100 specific categories to search though, popular genres or the list of great bestsellers is only a click away. From tear-jerkers to nail-biters, they have it covered. Bestsellers and new books are updated weekly, and of course, everything is sold at wallet-friendly prices. And utilizing the free Adobe Digital Editions software, bulking up a digital library couldn't be simpler.
EZRead.com stores downloaded books on their website for access at any time, which means if readers experience a pesky computer crash or their eReader explodes, they can rest assured their library will be safe. Peace of mind, great selection, and low prices; it doesn't even sound possible in a sentence.
Visit http://www.EZRead.com to browse through bestsellers, classics for the connoisseur, heart-melting romance, heart-stopping thrillers, and so much more. Supported devices are listed, Adobe Digital Edition is ready to download, and most importantly, the bookstore is always open.
###