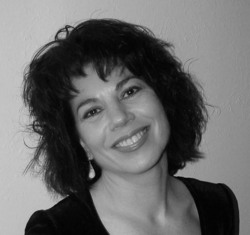 "I view art as the doorway of opportunity to embrace all aspects of our divine nature," Logic is left for another day and our intuitive Self is allowed to be expressed in its full capacity without judgment." Lisa Ann Bonfiglio
Palmer Lake, CO (PRWEB) April 21, 2010
"Earth Being Cleansed" leads off the Earth Day 2010 collection of signed special-edition art prints at http://www.Satiama.com. Artist Lisa Ann Bonfiglio explains, "Our earth is undergoing a cleansing. From wildfires, hurricanes, and earthquakes, from floods to volcanoes, Mother Earth is shouting, 'Enough is enough!'"
"Earth Being Cleansed" is tied to all life forms, Bonfiglio said, and the message is that it's time for each of us to let go of ego and chaos in order to rebirth the new for the highest good of all. While each work strongly relates our connections with earth, the Earth Day Collection represents even more to the artist. These works were painted very recently, as Bonfiglio entered what she describes as a sacred space in communion with the "I Am" presence within. She became a vehicle for that which wanted to come through -- the sea, lush green valleys -- nature as the feminine aspect tied in with Mother Earth.
Bonfiglio recommends spending time in nature to "experience the beauty of Mother Earth. She is a great teacher for how to just be and allow in our lives. Nothing is forced in Nature; everything flows in Divine order with the natural ebb and flow of natural cycles."
These special edition prints on archival-quality water color paper are each signed by the artist and include a certificate of authenticity. For every order placed on Earth Day, April 22, 2010, Satiama will make a donation to The Conservation Fund's Go Zero® program, which allows individuals, corporations, and communities to measure their carbon dioxide emissions, learn how to reduce emissions, and offset the remaining emissions by planting trees. Visit: http://www.conservationfund.org/gozero for more information on how to reduce your carbon footprint and contribute to increasing the life span of our planet.
About Artist Lisa Ann Bonfiglio
Lisa Ann Bonfiglio is an artist and healer who lives in Colorado. "I view art as the doorway of opportunity to embrace all aspects of our divine nature," she said. "Logic is left for another day and our intuitive God Self is allowed to be expressed in its full capacity without judgment."
In August 1997 Lisa experienced a spiritual transformation that manifested as twelve paintings she created in a single weekend. At first she wasn't clear as to what was happening, because as she began to paint automatically with her fingers she felt intense energy and a deep connection to Spirit. Also, she often finds that the image she paints is upside down; when she flips it over, the work tells a different story, she said. As she paints, she listened to Spirit explaining to her the significance behind each experience. Since that weekend Bonfliglio has continued to paint with the angels.
Once she surrendered control, pride and ego, an intense flow of energy was allowed into every aspect of her life. Bonfiglio explains that she makes a conscious effort on a daily basis to see life without "the veil."
Her works of art are borne out of her willingness and desire to be whole, to reach deep within, and to love all aspects of her self completely and without judgment, she explains.
The Earth Day Collection
The Earth Day Collection of signed, limited edition Lisa Ann Bonfiglio prints are specially priced at $65 for three weeks only. Each print is offered on archival-quality watercolor paper with a deckle edge and includes a certificate of authenticity along. Prints are available exclusively at http://www.Satiama.com
Earth Being Cleansed. "Our earth is undergoing a cleansing. From wildfires, hurricanes, and earthquakes, from floods to volcanoes, Mother Earth is shouting, 'Enough is enough!'" Lisa said. "Now is the time to give back and work together in unity."
Goddess of the Earth. "There is so much to be learned from the natural cycles of Mother Earth. If we live in harmony with this natural rhythm, this ebb and flow, we can learn so much. It is time to pay attention and live in harmony."
Beauty of the Earth. "We are surrounded by so much natural abundance; it takes but a moment to become aware of and appreciate all the beauty Mother Earth continues to give us. The next time you feel scarcity about anything, step outside and breathe in the unlimited abundance of oxygen from the plants and trees. You just might see a Deva in action!" Lisa said.
Inner Earth. "Some believe there are sacred cities within the earth that hold the ancient teachings of all life, sustained by the energy of crystals, one of the greatest gifts we have received from Mother Earth."
Lush Green Valleys. "As a child growing up in Wisconsin, I remember being filled with such delight as I explored the woods, the creeks and the lush green valleys. I felt safe and protected as I walked side by with my family of Light."
Riches of the Sea. "We live on a planet which provides us with so many natural resources, and our oceans are among the greatest of those. It is time to stop the destruction of our oceans and live in harmony with all life forms that make their home there as well as upon the lands surrounding them."
These limited edition Earth Day prints are specially priced at $65 for three weeks only. Each print is signed by the artist, offered on archival-quality watercolor paper with a deckle edge and includes a certificate of authenticity.
About Satiama
Satiama.com provides a portal for spiritual integration and conscious living and offers a wide range of tools, including books, CDs, DVDs, jewelry, art, photography as well as online classes, live workshops, daily blogs, guest articles, videos and much more, to enhance each person's life's journey and connect the inner self with daily life.
Satiama, LLC is a Colorado-based company, founded in 2009 by sisters Karen and Susan Stuth.
http://www.Satiama.com
###