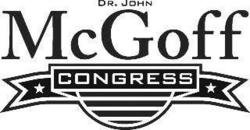 "Nobody is really sure what the appendix does, just like Dan Burton..."
Indianapolis (PRWEB) April 21, 2010
Voters across Indiana's 5th Congressional District got their first glimpse on Sunday of the McGoff for Congress T.V. advertisement; "Dan Burton vs. The Appendix."
"The animated ad compares the 14-term incumbent Dan Burton to a bloated appendix," explained Lou Quinto, the McGoff for Congress Campaign Manager. "We are stating the painfully obvious, in a very creative way: after 28 years Dan Burton is part of the reckless-spending, big government, career politician mentality and it's time for him to be removed."
Phone and email traffic at Dr. John McGoff (Republican) for Congress Campaign Headquarters saw a big jump in activity when the Indianapolis Star wrote about the T.V. ad in its Sunday edition, and it was posted on the McGoff for Congress' YouTube and Vimeo sites. The TV ad can be found on YouTube and Vimeo.
"This ad hits a nerve -- Dan Burton has morphed into the quintessential caricature of the out-of-touch congressman; he's part of the problem," continued Quinto. "As the ad suggests, Dan Burton has been in Congress for 28 years and has been part of 14 sessions of Congress helping grow government spending from 20 percent GDP (Gross Domestic Product) to nearly 40 percent GDP. Dr. John McGoff has pledged to vote down all big government spending and growth. Hoosiers are screaming loud and clear, 'enough is enough.' "
His experience as a colonel in the Air National Guard, an emergency physician and small business owner qualify him to solve America's health care, economic, and national security issues. As a colonel in the Air National Guard, Dr. McGoff has been deployed all over the world, including Afghanistan and Iraq, working with foreign governments and militaries.
Dr. McGoff is running against 14-term incumbent, Dan Burton in a May 4th Indiana Primary. Indiana's 5th Congressional District contains all of Grant, Hamilton, Hancock, Huntington, Miami, Tipton and Wabash counties and parts of Howard, Johnson, Marion and Shelby counties.
###