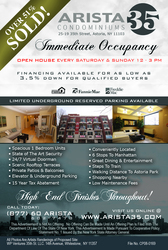 Astoria, New York (PRWEB) April 22, 2010
Arista 35 Condominiums is rapidly approaching it's full capacity and is nearly sold out. This twenty two unit building located in the heart of Astoria with five floors of spacious one bedroom apartments featuring bamboo flooring, stone counter tops, private patios and balconies has made the Arista 35 Condominiums the talk of the town.
There is a great deal of excitement each weekend during the afternoon scheduled open houses, which puts the building on full display for all to see. Steve Sokolof (The Exclusive Real Estate Broker) and his staff are constantly busy doing their best to meet the needs of all the interested buyers visiting the site each weekend. You can hear the excitement in the buyer's voices as Steve explains the buildings amenities, quality workmanship, underground parking, rooftop terrace and the state of the art security system.
Arista 35 is as beautiful of a specimen as one could wish for, not to mention how convenient, safe and affordable the Arista 35 actually is. As you walk through the apartments on the first, second, third, forth and fifth floors you know why so many interested buyers are rushing to the Arista 35 to purchase the luxurious yet affordable apartments that are still available. Only a few select apartments and underground parking spaces remain available.
The Arista 35 offers many fine amenities, such as; state of the art security, quality construction, high-end finishes throughout the entire building, elevator, underground parking, private patios & balconies, roof top terrace, great views, shopping, parks, museums, dining, entertainment and it's only 6 stops from Manhattan not to mention the 15 year real estate tax abatement and the low maintenance fees.
For those who are interested in more information regarding the apartments that are available at Arista 35 they can inquire directly by contacting their office at 1 (877) 60 ARISTA, calling the sales agent Steven Sokolof at 646-621-0303 for a private showing, or by visiting their website at http://www.arista35.com.
###