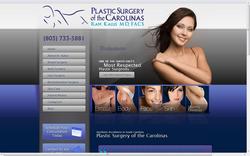 Columbia, South Carolina (Vocus) April 21, 2010
As social media continues to revolutionize the way that friends, family members, and colleagues stay in touch with each other, a local plastic surgeon has embraced these technologies as a way to connect with patients both new and old. Dr. Ram Kalus recognized the value that social media websites could bring to his patients in providing them with an interactive glimpse into what sets his practice apart from others.
Dr. Kalus established his Columbia breast augmentation and body contouring practice in 1990 with his main priority being to listen to his patients and communicate with them effectively. Now, through Facebook, YouTube, and Twitter, patients can watch videos of Dr. Kalus, view before-and-after pictures, and become acquainted with his practice before they even set foot into his offices.
The interactive nature of social media enables visitors to click on the topics that interest them or to share comments with staff members and other patients. By enhancing his online presence with social media applications, Dr. Kalus' goal is for patients to engage with his practice in a dynamic, personalized manner while learning about rhinoplasty in Columbia or other cosmetic procedures.
Facebook, You Tube, and Twitter enable patients to become familiar with Dr. Kalus' practice philosophy as well as the treatments that they are considering. On his You Tube video, Dr. Kalus describes how in all procedures he makes every effort to avoid an operated-on appearance. "My goal with any operation, whether it is a facelift or a cleft lip repair, a cosmetic breast augmentation or a breast reconstruction after mastectomy, is to do the utmost to leave my patient with a natural-appearing result, one that looks like he or she never had surgery."
Dr. Kalus says his social media outreach is a great way of not only reaching out to patients, but giving them an easy way of contacting the practice, asking questions, and engaging in discussions on a variety of topics related to aesthetic enhancement.
About Dr. Ram Kalus
Dr. Ram Kalus established his Columbia breast implants, body contouring, and facial plastic surgery practice after being trained and educated at some of the most prestigious medical institutions in the U.S. After earning his undergraduate and medical degrees from Boston University, Dr. Kalus completed plastic surgery residencies at Dartmouth Hitchcock Medical Center in Dartmouth, New Hampshire, the University of Massachusetts Medical Center in Worcester, Massachusetts, and the Hospital for Sick Children in Paris, France.
Dr. Kalus has been board-certified by the American Board of Plastic Surgery since 1992. He is a member of the American Society of Plastic Surgeons, the American Society for Aesthetic Plastic Surgery, and the South Carolina Society of Plastic Surgeons.
Plastic Surgery of the Carolinas is located at 1301 Taylor Street, Suite 10A, Columbia, South Carolina 29201. Patients can reach the practice by dialing (803) 733-5881. http://www.plasticsurgerycarolina.com.
###