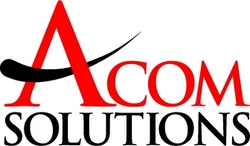 "For many businesses who are cautiously ramping up for an improving economy, this solution helps financial departments significantly increase their payment processing capacity without adding staff." - Joe Torano, Channel Division Vice President
Long Beach, CA (PRWEB) April 21, 2010
In response to market demand, ACOM has added powerful new capabilities to their EZContentManager solution to automate the application of General Ledger (GL) Codes onto invoices during the electronic approval process; it then writes that data directly into Sage MAS 90/200/500 ERP systems, eliminating duplicate data entry and the associated errors. With functionality designed from reseller and customer feedback, the new integration makes accounts payable (AP) document processing even more fluid and efficient.
Gaps in the document management aspect of payment processing can lead to accounts with conflicting data or incorrect account coding. To avoid costly mistakes and redundant data entry requires a document management solution that integrates directly with an ERP system.
"ACOM's technology overlays existing Sage screens with a graphical button interface to instantly view the progress of invoice approval workflow with all related payment paperwork. It gives financial managers peace of mind that they can determine their cash flow at any given time."
Automating invoice processing approval and general ledger distribution coding frees staff from manual approval and data entry tasks so they can focus on higher valued activities. With ACOM's EZContentManager, staff can quickly access electronically archived invoices and related documents; increase voucher processing speed with electronic routing and approval; improve cash management; and master discount deadlines to eliminate late payment fees. The seamless electronic routing and approval capabilities enable a geographically distributed organization to enter, route, annotate, and approve payments while storing all documents on a secure central server.
With ACOM's EZContentManager AP GL Distribution module, payables data can be set to export into the MAS system at a specific time of day, at regular intervals, or ad hoc for special on-demand reports. Data is imported into the MAS system via the Visual Integrator module (MAS 90/200) or Data Import Manager module (MAS 500). As a result, the status of purchase orders, invoices, packing slips, and checks are visible online to authorized managers anywhere in the organization, right from Sage MAS screens.
To find out more how ACOM can help you automate Sage MAS document and payment processes, including the new AP GL coding, schedule a talk with one of our Document Management Experts. Call 800-699-5758 ext. 4150.
About ACOM Solutions, Inc.
ACOM is dedicated to delivering solutions that lower cost, improve productivity, and increase customer retention. For over 27 years, ACOM has been automating document and payment processes for more than 4,000 organizations, across all industries. ACOM develops solutions that are ideal for tactical deployments in the accounting/financial departments of mid-size organizations. ACOM's solutions are designed to extend the capabilities of an organization's existing financial/ERP system, and provide some very significant benefits: the solutions are easy to use, affordable, and are typically implemented within 2-3 days; they dramatically improve the efficiency within an organization by automating their previously manual, paper-based processes. By incorporating ACOM's solutions into their product offerings, ACOM's partners can bring this valuable set of additional cost-saving ERP enhancements to their clients. For more information, call 800-699-5758 ext. 4150, email partnerinfo@acom.com, or visit http://www.acom.com/channelsprw
###