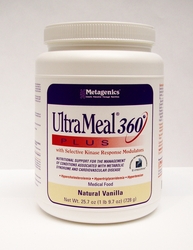 We believe these results are solid evidence that our unique combination of lifestyle and targeted nutrition offers a powerful approach to managing this all-too-common condition that affects millions of Americans.
San Clemente, CA (Vocus) April 21, 2010
The preliminary results from the first multi-center clinical trial to test the impact of a therapeutic lifestyle change program including a specific diet in combination with a medical food containing specific plant based nutrients on a health condition known as metabolic syndrome supports earlier research conducted by life sciences company Metagenics, Inc.
Metabolic syndrome affects one in three American adults, significantly increasing their risk of developing heart disease, diabetes, and many other lifestyle-related chronic illnesses. It's defined as the presence of three or more of the following: high blood pressure, high blood sugar, central obesity ("apple shape"), high triglycerides, and low HDL ("good") cholesterol. Major health organizations including the U. S. Centers for Disease Control and Prevention and the American Heart Association recommend lifestyle therapy, including a healthy diet and exercise, as the first line of therapy in treating metabolic syndrome.
The multi-center clinical trial was conducted by the University of Florida College of Medicine, Jacksonville, FL; the University of Connecticut, Department of Nutritional Sciences, Storrs, CT; and the University of California, Irvine Susan Samueli Center for Integrative Medicine and was sponsored by Metagenics.
An earlier study conducted by Metagenics and published in the Journal of Nutrition & Metabolism ((Lond) 2008;5:29 PMID:18983673) indicated that individuals with metabolic syndrome benefited more from a professionally-guided lifestyle therapy program consisting of 1) a Mediterranean-style, low glycemic load diet, 2) moderate exercise, and 3) a soy-based medical food*containing plant sterols and a supplement of patented extracts from hops and acacia than the lifestyle program without the medical food and supplement. (*The U.S. Food and Drug Administration defines a medical food as "a food which is formulated to be consumed or administered enterally under the supervision of a physician and which is intended for the specific dietary management of a disease or condition for which distinctive nutritional requirements, based on recognized scientific principles, are established by medical evaluation.")
"The multi-center clinical trial results further support the use of lifestyle therapy in combination with Metagenics' UltraMeal® PLUS 360° medical food containing soy, phytosterols and patented extracts from hops and acacia, called selective kinase response modulators (SKRMs) in addressing metabolic syndrome and other chronic illnesses that may stem from it," said Robert Lerman, MD, PhD, Director of Medicine at Metagenics. "We believe these results are solid evidence that our unique combination of lifestyle and targeted nutrition offers a powerful approach to managing this all-too-common condition that affects millions of Americans."
The preliminary findings from the clinical trials will be presented at back-to-back scientific conferences taking place at the Anaheim Convention Center:

The American Society for Nutrition (ASN) Annual Meeting will take place April 23. ASN is a member society of Federation of American Societies for Experimental Biology (FASEB) representing 3,800 of the world's top nutritional researchers and clinicians. The meeting symposium, sponsored by Metagenics, is free and open to the public.
The FASEB Experimental Biology conference will take place April 24-28. FASEB is the nation's largest coalition of biomedical researchers, representing 23 scientific societies and 90,000 researchers worldwide. More than 14,000 members are expected to attend this conference.
About Metagenics, Inc.
Metagenics, Inc. (http://www.metagenics.com), headquartered in San Clemente, CA, is a global life sciences company focused on reversing chronic illness and improving health. Founded in 1983, the company serves tens of thousands of health care professionals and more than a million patients throughout the world and holds more than 40 propriety formula patents for use in nutraceuticals, medical foods, and pharmaceuticals. Today, Metagenics continues its leadership role by successfully merging nutritional genomics, functional medicine, and lifestyle medicine to deliver solutions to society's most pressing health concerns.
For more information or to schedule an interview with Dr. Lerman, please contact:
Josie Davison
Metagenics, Inc.
(949) 369-3406
josiedavison(at)metagenics(dot)com
###