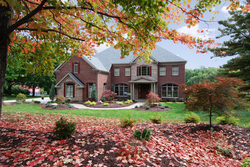 This year alone ENERGY STAR estimates the homes we build will prevent over 2.4 million tons of C02 emissions from being released. - Kevin Oakley
Pittsburgh, PA (PRWEB) April 22, 2010
A Pittsburgh home builder is going to plant a tree in one of their communities for every person who visits a model home as part of Earth Day 2010. As the first large home builder in the region to be committed to 100% ENERGY STAR testing Heartland Homes has already done a lot to improve energy savings and lower consumption - two large parts of green building. As a market leader, when Heartland innovates many other builders often try and follow suit. "In this instance in particular I enjoy the competition because in the end everyone wins," says Heartland's President Marty Gillespie. "Our customers get homes that are more comfortable to live in and use less energy saving them hundreds of dollars a year. Plus we're helping to improve the community in which we do business. If our competition wants to raise their standards too then that's ultimately a good thing and will drive us to be even better." Heartland has committed to verifying every home built in 2010 exceeds the ENERGY STAR standard while other builders are only doing random sampling.
Beginning on Earth Day, April 22nd, through this Sunday April 25th for each person that visits one of Heartland's twenty-two model homes the company will plant a tree in one of their communities. "Based on the average amount of visitors we receive on a weekend I would estimate that we will end up planting at least two hundred trees," says Heartland's director of marketing Kevin Oakley. "We certainly hope that this will give people extra incentive to come out and give us a chance to tell them our green story. This year alone ENERGY STAR estimates the homes we build will prevent over 2.4 million tons of CO2 emissions from being released. This weekend anyone can help the cause just by stopping in and being counted." Heartland's models are open from 10am – 5pm on Thursday, and from 12pm – 5pm on Saturday and Sunday. For a full list of communities and model homes available to visit please visit http://www.LoveHeartland.com.
About Heartland Homes
Heartland Homes is Pittsburgh's #1 custom home builder, and is still family owned and local after 26 years. Heartland's goal is to create custom homes of the highest quality, at an affordable price, & with excellent customer service in the Pittsburgh area. For more information, visit http://www.LoveHeartland.com.
###