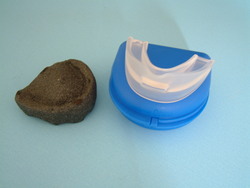 You can imagine that a bronze age women would inflict a lot of damage with her elbow!
(PRWEB) April 23, 2010
A strange object thought to date back to the Bronze Age had baffled archaeologists for some time until a picture of the artifact was published in a local paper. The small piece of stone was recognized instantly by Luis Fairman the technical director of anti snoring manufacturer Snorebond.
"I recognized the shape of the device at once, as it was so similar to the anti snoring devices that we make to stop snoring. It was carved out of a solid piece of stone and would have been fairly uncomfortable compared with the lightweight material we use today."
Luis thinks the device was carved out of stone to fit the upper and lower jaws of a man or woman (lets not be sexist here) to combat the age-old problem of rattling the rafters.
"It is pretty amazing to think that snoring was a problem even back then (an approximate date for the stone is 1500 BC) and you can imagine a bronze age woman could inflict a lot of damage with her elbow if provoked!"
The stone object is now at the snorebond museum in Bodmin where it nestles amongst the other strange items found in a snoring museum.
###