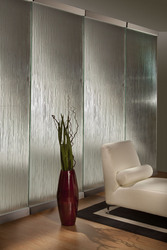 Modernfold has always been in the forefront of offering the latest aesthetic options to the architectural community
Greenfield, IN (Vocus) April 23, 2010
Modernfold ( http://www.modernfold.com ), the market leader in innovative operable partitions, has begun collaborating with Joel Berman Glass Studios ( http://www.jbermanglass.com ) to bring designer glass options to Modernfold space division products.
The use of glass in operable partitions is an accelerating trend that will likely continue given modern demands for daylighting and increased interior openness. The new collaboration will enable architects and designers to integrate a wide array of custom textures, colors and resins into Modernfold partitions for a customized, contemporary finish.
Modernfold systems suitable for the distinctive glass products include the full-glass partition MOVEO® line of partitions and window cut-outs on the Acousti-Seal® line.
"Modernfold has always been in the forefront of offering the latest aesthetic options to the architectural community," said Dan Popplewell, director of sales at Modernfold. "With the availability of remarkable products from Joel Berman Glass Studios, we again demonstrate that space division can be beautiful and functional at the same time."
Joel Berman Glass Studios glass will be available directly from Modernfold representatives, who will interface directly with the glass producer to accommodate nearly any standard or custom need.
For more information about operable partitions from Modernfold, call (800) 869-9685 or visit http://www.modernfold.com.
About Modernfold and DORMA Group North America
Modernfold is the worldwide leader in operable partitions commonly found in conference and convention centers, hotels, classrooms, corporate meeting rooms and other public spaces. Since 1925, Modernfold has delivered quality and durability through product design and technological advances. The company is supported by a nationwide network of independent distributors who assist in layout development, product selection, project coordination, installation, training and service.
DORMA Group North America manufactures and markets a wide range of products for the architectural openings industry, with a particular focus on commercial and institutional openings. Part of The DORMA Group worldwide, DORMA Group North America comprises DORMA Architectural Hardware, DORMA Glas, Modernfold, DORMA Canada, DORMA Mexico, and DORMA Entrance Systems -- which markets products and services under the DORMA Automatics, Crane Revolving Door and Carolina Door Controls brands.
DORMA Group North America offerings include safety and security products, locks, door closers, exit devices, glass hardware and patch fittings, sliding and swinging automatic doors, revolving doors and operable partitions.
About Joel Berman Glass Studios
Joel Berman Glass Studios is a world-renowned designer and manufacturer of glass art for the architecture and design community, and offers leading edge solutions and collaboration possibilities to take any glass art project from concept to installation. From its design studio and manufacturing facilities located in Vancouver, BC, Canada, Joel Berman Glass Studios offers kiln-cast and pressure-formed glass, and related complementary products, crafted to the highest standards and featuring designer textures, colors, hardware and design services.
# # #