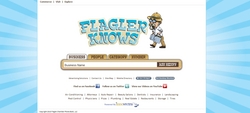 Our new online directory makes it easy to connect buyers and sellers on the Internet.
Lansdowne, VA and Palm Coast, FL (PRWEB) April 22, 2010
The Flagler County Chamber of Commerce announced today the launch of its new, online Yellow Pages directory web site for the seaside and Intracoastal communities of Beverly Beach, Bunnell, Flagler Beach, Marineland and Palm Coast in Florida.
The new site FlaglerKnows.com, developed and hosted by Innovectra, enables local residents and businesses, visitors and tourists to search, find, discover and share area information via the Internet, mobile phones and social networks.
FlaglerKnows.com features "Henry", a character synonymous with Henry Morrison Flagler (1830-1913), the industrial tycoon who was a key figure in the development of the eastern coast of Florida along the Atlantic Ocean. "Henry" invites visitors of the FlaglerKnows.com web site to explore the best of everything the Flagler County communities have to offer including golf, surfing, boating, fishing and shopping when touring the area.
"Our new online directory makes it easy to connect buyers and sellers on the Internet," said Rebecca DeLorenzo, executive vice president of the Flagler County Chamber of Commerce and Affiliates. "Participating merchants and service providers will have their Yellow Pages and business profiles featured within the site, which is designed to be search engine friendly and readily accessible from our flaglerchamber.org and visitflagler.org sites", she added.
"We are pleased to welcome the Flagler County Chamber & Affiliates as a new client," said Thomas C. Lewis, president and CEO at Innovectra. "The Chamber's new Internet directory and online marketing solutions are a perfect combination for small businesses and chamber members who are looking to expand their business online," Lewis added.
About Flagler County Chamber of Commerce & Affiliates
Serving the local business community for more than 45 years, the Flagler County Chamber of Commerce & Affiliates is a not-for-profit organization that publishes several publications each year including the Flagler Chamber Phone Book, Fantastic Flagler, the only Visitor and Newcomer Guide for Flagler County, and The Network, the Chamber's monthly newsletter. Based in Palm Coast, FL the chamber's current membership is 1,000 businesses. For more information, visit flaglerchamber.org or call 386-437-0106.
About Innovectra
Innovectra provides "world class" web, mobile and social network based local search solutions including web site builder and e-mail marketing tools for online directory publishers. One of the first companies to create electronic directories, Innovectra currently publishes over 800 Internet Yellow Pages directories. We provide a complete suite of interactive online media products and with services that "optimize" and "monetize" local search including ActivImpact and ActivDirectory powered marketing solutions for small business. For more information, visit the Innovectra Corporation web site at innovectra.com.
###