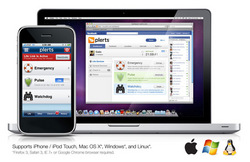 When it comes to medical and personal safety, Plerts puts privacy at the forefront.
Austin, TX (PRWEB) April 22, 2010
Plerts, Inc. is proud to announce the release of Plerts for the iPhone, iPod Touch, and Facebook app platforms. Plerts is a personal alert service focused on accessibility, real-time location, and privacy for medical and personal safety. Plerts is built around the concept of a "social safety net" which is a customized list of contacts that will simultaneously receive an emergency alert via email, SMS, or even over Facebook and/or Twitter.
"When it comes to personal safety, Plerts puts privacy at the forefront," said Plerts co-founder, Colin Anawaty. "Nobody ever has to know where you are or what you're doing. Our service provides peace of mind when living alone with medical conditions, going on an internet date, making an exchange on Craigslist, or traveling the world." A user's actions and location are kept completely private unless an accident happens and they fail to check back in. Only at this point is an emergency alert sent with their real-time location and personal information to their pre-selected social safety net, regardless of what may happen to them or their device.
Originally designed for medical alerts and patient care, Plerts offers a highly-accessible communication platform to securely send periodic updates and vitals to off-site care providers while assuring a reliable safety net is in place should one become unresponsive due to adverse drug or diabetic reactions. Plerts also offers a one-touch medical life alert service for free that works virtually anywhere internet or mobile coverage is available.
Features:

Intuitive Interface
Works Virtually Anywhere
One-Tap Emergency Alert
Plerts Pulses for Medical Care
Plerts Watchdogs for Personal Safety
Synchronizes with Plerts' Facebook and Web applications
Group Broadcasting
Motivational Reminders
Geo-tagging Map Services
Pricing and Availability:
Plerts for the iPhone and iPod Touch is available as a free download on the iTunes AppStore. Plerts for modern web browsers is available as a free installation on the Facebook Platform. Plerts premium services cost $4.99 USD per month or $49.99 USD per year.
About Plerts, Inc.
Plerts is a private-held company founded by Andrew Busey and Colin Anawaty in 2009 and headquartered in the Startup District of Austin, Texas. Plerts is building a flexible medical and personal alert platform for general consumers, and offers white labeled solutions for universities, insurance companies, hospitals, and more. For more information about white label services and partnerships, please contact us at business(at)plerts(dot)com.
Copyright 2010 Plerts, Inc. All rights reserved. Plerts and the Plerts "Wing" logo are registered trademarks of Plerts, Inc. Patent pending. Apple, the Apple logo, iPhone and iPod are registered trademarks of Apple Computer in the U.S. and/or other countries.
# # #