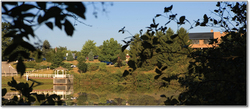 "We are so pleased to open the newly constructed Oak Grove Center and further meet the needs of residents by now expanding memory support care to our available on-site health services" - Mark Bondi
Cranberry Twp, PA (PRWEB) April 22, 2010
Sherwood Oaks, a PA retirement community, will hold a ribbon-cutting ceremony on April 28, 2010 to open the new Oak Grove Center specifically designed to address the needs of those coping with memory loss. The newly constructed 32,000 square foot facility will feature private rooms, country kitchens in a neighborhood-style design, and offer a rooftop garden. The Oak Grove Center can accommodate up to 30 residents in need of private individualized care and treatment for memory impairments associated with aging, illness, Alzheimer's and dementia.
The Oak Grove Center represents part of a $9 million project which also includes a renovation of the Sherwood Oaks skilled nursing facility which is currently in progress. The money for the project was raised by the Sherwood Oaks Fund and headed by residents. Contributions from residents, families, employees and others have made the construction and renovation project possible. The renovation of the Sherwood Oaks skilled nursing facility is expected to be completed in 2011.
"The Sherwood Oaks Retirement Community provides retirees with residential apartments and patio homes and on-site assisted living and skilled nursing care. Residents have the advantage of having their health care needs met as their situation changes over time. When residents voiced a desire for a specialized center to address memory loss support, they championed the cause by raising the necessary funds. We are so pleased to open the newly constructed Oak Grove Center and further meet the needs of residents by now expanding memory support care to our available on-site health services," said Mark Bondi, President and CEO of Sherwood Oaks.
Dr. Donald Shoenthal, medical director at Sherwood Oaks, is especially excited about the project. "The planning of the facility was done in conjunction with residents along with national experts on memory care design. The result is spectacular. I think the design itself will have a very positive impact on some of our patients with memory issues."
Sherwood Oaks is a continuing care retirement community for people age 62 and over with patio homes and apartments offering secure, maintenance-free living with fine amenities, activities and programs with on-site assisted living, skilled nursing and memory support care. The mission of Sherwood Oaks is to foster independence, health and wellness, and financial security for residents while preserving a quality and dignity of life in which residents may realize their fullest potential. Sherwood Oaks is part of the University of Pittsburgh Medical Center (UPMC) retirement communities.
The Sherwood Oaks Retirement Community is situated on an 84-acre wooded campus 25 miles north of downtown Pittsburgh in Cranberry Township, Pennsylvania. Visit http://www.sherwood-oaks.com.
###