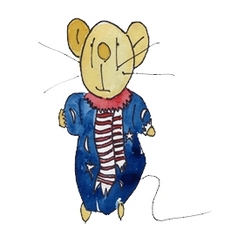 Peter said - "This is a culmination of a 20 year dream to have this story published in print, he added - it was a moving experience to hear for the first time the book in audio format, my ultimate aim is to create an animated film based on the book!"
Sanderstead, Surrey, UK (PRWEB) April 23, 2010
The book "The Goosepill Gang - The Blue Bottle Mystery" was written as a bed time story on scraps of note paper during the late 1980's by Peter Davies, the book involved all four of his children as the main characters which where all hand drawn and painted by himself.
Peter recalls - "It never once failed to have all four of my children wide eyed and pulling the blankets up under their noses when it got to the scary bits. It also sent them off to sleep without fail and they always begged for more the following night"
The manuscript and drawings lay forgotten about for over 20 years, following discovery the manuscript was dusted off and the illustrated book emerged, four books were initially printed on a short run and given to Peter's grown up children as a Christmas gift in 2009, urged by his family to share the book with the world, the book was published by Upfront Publishing in March 2010, and the audio version released in April 2010.
The book is an adventure story about a scarecrow called Scrag, a mouse called Marmaduke and their adventures with friends Ollie and Karanagins.
Suitable for reading ages 7 - 12 years a great bedtime story read for parents to their children. You can learn more about the characters in the book and listen to the first chapter - The Storm in audio by clicking here.
Hard Back Version ISBN: 978-184426-784-2
Audio CD Version ISBN: 978-0-9565414-0-6
MP3 Version ISBN: 978-0-9565414-1-3
###