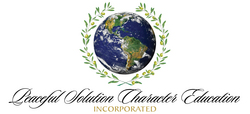 Our goal with this seminar is to teach positive parenting skills and begin reversing the negative cycle
Abilene, TX (PRWEB) April 26, 2010
The Peaceful Solution Character Education Incorporated is hosting a summer seminar to improve parenting skills, and provide an easy blueprint that can be used at any parenting stage. Parents will learn the tools needed in order to counteract the negative influences children are bombarded with daily.
The four-day seminar conducted by instructors, who have been trained in The Peaceful Solution Character Education Program, will be held in Abilene, Texas beginning August 2, 2010
.
Attendees will receive four days of essential character building instructions designed to change the heart and mind of a person away from violent tendencies and negative choices, as well as tools and techniques to take back with them, that when implemented, have proven to eliminate a negative and stressful environment.
Attendees will leave with solutions to their most troubling situations and have a proven system that will guide them in raising children successfully.
"Most people agree that training begins in the home", said Founder Yisrayl Hawkins."The problem is what if the parents were never trained properly. ", he said. "Our goal with this seminar is to teach positive parenting skills and begin reversing the negative cycle." said Hawkins.
The Seminar is free to attend and open to the public.
For more details on this seminar please go to: http://peacefulsolution.org/training/seminars.html
About Us
Pioneered by President Yisrayl Hawkins, In 1994 The Peaceful Solution Character Education Incorporated began with a group of concerned parents and teachers whose keen observations led them to realize that positive character development was rapidly deteriorating in our society. Their concern prompted them to proactively embark on a mission to stop the decline and bring back positive character behaviors to society.
In 2004 The Peaceful Solution Character Education Program, authored by President Yisrayl Hawkins was successfully introduced in the United States and nine other countries.
Since that time the program has been successfully implemented in schools, prison systems, after school programs, daycare centers and in the home.
For more information please contact:
Tanah Hawkins
Shandra Hawkins
Amaryah Hawkins
Tracy Hyler
(325) 893-2662
(325) 672-9492
###