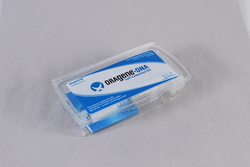 : "As a teacher in the Fleming College Biotechnology Forensic program, I am speaking on behalf of the students who perform DNA extractions and compare numerous techniques. When comparing results from DNA Genotek's Oragene•DNA kit against other kits, we we
Ottawa, ON (PRWEB) April 22, 2010
DNA Genotek, a leading provider of products for biological sample collection, stabilization and preparation, today announced it is marking DNA Day 2010 by introducing a program geared towards helping students in high schools, colleges and universities learn more about DNA collection and purification. The program, titled DNA Genotek's Science Education Program, will offer Oragene•DNA Self Collection Kits at no charge to classrooms in accredited high schools, colleges and universities to be used for teaching purposes.
DNA Genotek's Oragene•DNA Self Collection Kit enables easy and non-invasive collection of saliva samples from large numbers of people and delivers high quality DNA. The product is widely used for research studies, clinical applications and personal genomics across the globe and has gained acceptance as the new gold standard for DNA collection.
"We want to make it as easy as possible for educators to use our kits as a teaching platform in the classroom. We feel that Oragene•DNA's self-collection method is well suited for this environment as students can collect DNA and experiment with extraction methods in the classroom, facilitating a greater understanding of DNA and its importance in health and disease," said Ian Curry, president and CEO, DNA Genotek Inc. "DNA Day celebrates the promise of DNA and is a time for students, teachers and the public to learn more about genetics and genomics."
Shannon Langlois, Biotechnology Technologist - Forensics Program, School of Law, Justice and Community Services, Fleming College has used Oragene•DNA kits in her classroom.
Langlois stated: "As a teacher in the Fleming College Biotechnology Forensic program, I am speaking on behalf of the students who perform DNA extractions and compare numerous techniques. When comparing results from DNA Genotek's Oragene•DNA kit against other kits, we were impressed with the simplicity of the extraction and the high quantity and quality of DNA. We performed genotyping and sequencing analyses on these samples which always gave reliable results. My students have benefited from DNA Genotek's educational program and I encourage other accredited institutions to use these DNA collection kits as a teaching tool in the classroom."
DNA Day commemorates the successful completion of the Human Genome Project in 2003 and the discovery of DNA's double helix by Watson and Crick in 1953.
To apply for the program, accredited high schools, colleges and universities can complete the online application form at http://info.dnagenotek.com/education.
About DNA Genotek:
DNA Genotek focuses on providing high-quality biological sample collection products. The company's lead product, the Oragene•DNA Self-Collection Kit, is the easiest way to collect and preserve large amounts of DNA from saliva. Oragene•DNA's reliability and ease-of-use have resulted in rapid adoption at top-tier health research institutions globally, including Harvard, Stanford, Cambridge, and Johns Hopkins. DNA Genotek markets its products worldwide and has established a global customer base in over 85 countries. For more information about DNA Genotek, visit http://www.dnagenotek.com .
® Oragene is a registered trademark of DNA Genotek, Inc.
###