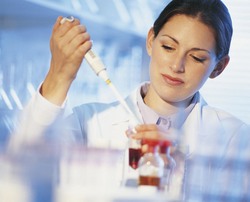 Our mission is to give all people in all communities the opportunity to access affordable and convenient lab testing. By doing so, ANY LAB TEST NOW is helping people take control of their health at a reasonable price
Alpharetta, GA (Vocus) April 22, 2010
ANY LAB TEST NOW®, the first nationwide direct access lab testing franchise company that was recently recognized as the second-fastest growing franchise by Franchise Times magazine, announced today the opening of its 100th store in Easton, Pennsylvania. Since it began selling franchises in the fourth quarter of 2007, Any Test Franchising, Inc. has pioneered the direct access lab testing industry by offering customers an affordable, convenient and customer-focused retail lab testing experience.
"Our mission is to give all people in all communities the opportunity to access affordable and convenient lab testing. By doing so, ANY LAB TEST NOW is helping people take control of their health at a reasonable price," said Joe Neely, chief executive officer of ANY LAB TEST NOW.
ANY LAB TEST NOW® works with local physicians to give their self-pay, under-insured and other patients' greater access to a more appealing and cost-effective lab testing experience. Each lab test is conducted in 10 minutes or less by a friendly professional in a retail environment. Test results are easy-to-read and understandable, giving customers and their doctors required information on how to treat, prevent and manage certain conditions and diseases. All lab tests can be taken anonymously and no appointment, insurance or a doctor's order is necessary.
ANY LAB TEST NOW also provides drug and DNA testing, medical weight loss and other innovative lab tests not typically covered by insurance providers or readily available at physician offices. In addition, ANY LAB TEST NOW® offers businesses pre-employment and random drug testing programs, background checks and lab-based wellness programs.
"As healthcare costs continue to soar for employers, ANY LAB TEST NOW® can provide discounted preventative wellness programs, vaccinations and flu shots and other lab-based programs to consumers and businesses, helping help them save time and money," said Neely.
Occupying approximately 1,000 square feet, each ANY LAB TEST NOW® store is located in the heart of retail centers throughout the United States. The company has completed franchise agreements in 36 states from Arizona to Washington, New Hampshire to Florida, and several states in-between. For more information on the location of its 100 stores, please visit http://www.anylabtestnow.com/find_us.
About ANY LAB TEST NOW®
Founded in 1992, ANY LAB TEST NOW® is a franchise medical lab testing facility that provides thousands of lab tests direct to consumers and employers in a professional, convenient and cost-effective manner. Beautifully designed stores and friendly professionals are ready to serve all customers without the need of an appointment, insurance or a doctor's order. With 100 facilities throughout the United States, ANY LAB TEST NOW® offers a variety of affordable lab tests and proprietary Value Panels including men's and women's health and wellness, STD, drug, DNA and many more. Tests can be taken anonymously and results are given to the customers in the method they choose typically within 24-48 hours. For more information, visit http://www.anylabtestnow.com.
###