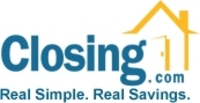 This partnership with Closing.com matches AmeriSpec with new home buyers and sellers who will need a quality home inspection completed before they can close on their house. It gives homeowners peace of mind to know that the home was checked by a professional home inspector who can recommend improvements and save them costly repairs down the road
La Jolla, CA (PRWEB) April 21, 2010
ClosingCorp announced today that it has reached an agreement with AmeriSpec, Inc. and Terminix International to add more than 700 home and pest inspectors to Closing.com, the Web's most comprehensive source for real estate closing services.
When real estate professionals and consumers visit Closing.com to shop for and compare real estate services they will now have the option of choosing from AmeriSpec Inc.'s 233 home inspection service locations and Terminix International's 352 termite and pest control service locations.
These companies will be included automatically in the SmartGFE® service, which delivers real-time fees directly from vendors, such as home inspectors and pest inspectors to loan originators. This new service is designed to help lenders and mortgage brokers across the nation prepare RESPA-compliant Good Faith Estimates. Currently integrated with Calyx®Point® 7.2, the data service is also available at smartGFE.com.
AmeriSpec's quality home inspectors are trained and certified to meet the industry's highest standards. Inspectors conduct a thorough 400+ point evaluation of the home, helping buyers understand the property's current condition. They also provide homeowners with a comprehensive AmeriSpec Report binder, which includes a Home Maintenance Manual, a Seasonal Maintenance Checklist, and a variety of home-related services from the ServiceMaster® Family of Brands. "This partnership with Closing.com matches AmeriSpec with new home buyers and sellers who will need a quality home inspection completed before they can close on their house. It gives homeowners peace of mind to know that the home was checked by a professional home inspector who can recommend improvements and save them costly repairs down the road," said Brent Armstrong, Vice President and General Manager of AmeriSpec.
Terminix, the largest termite and pest control company in the world, safeguards more than 2.6 million homes and businesses against all types of pests in 45 states and internationally. "Closing.com is a go-to resource during the home buying process and by joining forces, we'll be able to stress the importance of a pest-free home," said Steve Good, Senior Vice President of Business Development for Terminix. "The alignment makes good strategic sense and allows us to introduce homebuyers to the type of world-class services and products that only Terminix can offer."
These companies join American Home Shield, the nation's leading home warranty company and the 11,000 contractors in its service network, who are already listed on Closing.com through an earlier agreement with ServiceMaster,® Inc. "It's important to us that potential customers have easy access to home warranty information, and an online search is often the first step in the buying process. Closing.com is a great resource for everyone involved in a real estate transaction," said AHS spokesperson Nicole Ritchie.
"We welcome these premier brands in real estate closing services to Closing.com. AmeriSpec and Terminix's decision to join our growing network is an important endorsement of our vision to provide consumers and real estate professionals with a transparent online selection of quality closing services. Now buyers, real estate agents and lenders preparing Good Faith Estimates can easily include Terminix, AmeriSpec and American Home Shield in their closing plans," said ClosingCorp's President, Paul Mass.
About ClosingCorp
ClosingCorp, an independent real estate information services company based in La Jolla, CA, owns and operates Closing.com® the most comprehensive source for real estate closing services on the Web. The site empowers consumers and real estate professionals to shop, compare and evaluate real estate services in their area. The company has developed the SmartGFE Service to help loan originators create RESPA-compliant Good Faith Estimates using real-time data from local/regional and national providers listed on Closing.com.
About ServiceMaster
ServiceMaster® currently serves residential and commercial customers through a network of over 5,500 company-owned locations and franchised licenses. The Company's brands include TruGreen, TruGreen LandCare, Terminix, American Home Shield, ServiceMaster Clean, Merry Maids, Furniture Medic, and AmeriSpec. The core services of the Company include lawn care and landscape maintenance, termite and pest control, home warranties, disaster response and reconstruction, cleaning and disaster restoration, house cleaning, furniture repair, and home inspection.
###