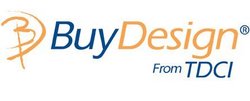 With BuyDesign, companies have just one place to build and maintain product knowledge that can be leveraged across Microsoft Dynamics AX and all their configurator-based in-house and web applications.
Atlanta, Georgia (PRWEB) April 24, 2010
TDCI, Inc. (TDCI), the leading provider of configurator-based software solutions, a Microsoft Gold Certified partner, and a Bronze Sponsor of Convergence 2010, today announced availability of BuyDesign Configurator and BuyDesign Guided Selling solutions integrated with the Microsoft Dynamics AX Enterprise Resource Planning (ERP) system.
BuyDesign Configurator is a highly intuitive product configurator that makes it easy to capture product knowledge in the form of product rules and constraints. It then guides users through product or order specification, calculates pricing, and optionally generates a wide range of configuration-specific outputs such as manufacturing bills of material and routings, drawings, CAD models, documents and more. The BuyDesign Guided Selling solution suite includes modular web-based applications built on BuyDesign Configurator to support quoting, proposal generation and ordering for both direct and indirect sales channels, self-service buying for B2B and B2C consumers, and other specialized sales functions.
BuyDesign for Microsoft Dynamics AX is integrated with Microsoft Dynamics AX 2009 SP1. In addition to leveraging Microsoft Dynamics AX features such as document handling, inventory dimensions, and filter rules, it provides previously unavailable product configurator capabilities such as multi-level configuration for generating dynamic product assemblies, as well as dynamic creation of configuration-specific outputs, including 2D drawings, 3D models, rendered images, and proposal documents.
Christopher Harte, Practice Director, Americas at Tectura, a Microsoft Dynamics partner that worked with TDCI to develop the standard integration and that has joined TDCI's BuyDesign partner network, stated: "BuyDesign delivers broader product configuration capabilities to Microsoft Dynamics AX. And the BuyDesign Guided Selling applications expand the configurator value proposition by extending product offerings to a wider range of end-customers. With BuyDesign, companies have just one place to build and maintain product knowledge that can be leveraged across Microsoft Dynamics AX and all their configurator-based in-house and web applications."
In stating the value of an advanced product configurator, Gartner Research VP for SMB Business Applications, Bob Anderson, said: "When it comes to product configuration solutions, midsize businesses are looking for a rich user experience that cuts down on complexity, as well as strong performance and a full set of features that minimize the upfront effort required while delivering powerful results."
BuyDesign is now available for Microsoft Dynamics AX, Microsoft Dynamics NAV, and Microsoft Dynamics GP. Integration with Microsoft Dynamics CRM is planned for release the second half of 2010.
"We're very excited about delivering BuyDesign for Microsoft Dynamics AX," said Dan DeMuth, TDCI President. "Microsoft Dynamics AX is a comprehensive and sophisticated ERP solution that is being adopted by a growing number of manufacturing companies around the world. With BuyDesign product configuration and guided selling solutions, it's now an even more powerful solution for "to-order" manufacturers. With this expansion to our offerings, companies can now leverage the full range of BuyDesign solutions with the Microsoft Dynamics solution that best fits their overall business management needs."
See a demonstration of BuyDesign for Microsoft Dynamics AX at Convergence in booth #121. To request more information on BuyDesign Configurator for Microsoft Dynamics AX, visit http://www.tdci.com.
About TDCI and BuyDesign
TDCI (http://www.tdci.com) specializes in helping manufacturers and their distributors streamline the buying process for customized products. TDCI's BuyDesign® software is a comprehensive web-based guided selling and configuration solution developed to help companies increase sales by becoming 'easy to do business with' while improving profitability by reducing order processing time, cost, and errors. Built using a powerful product configurator, BuyDesign provides modular applications for guided product selection and configuration, product visualization, quoting and ordering, drawing and data generation, consumer interest creation, and more. BuyDesign is integrated with a wide range of industry-leading ERP systems.
# # #