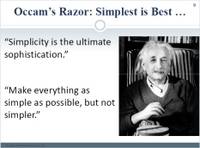 We've had an amazing response to our on-demand webinar released just two weeks ago!
Trenton, NJ (Vocus) April 22, 2010
Application Security is at the heart of much of the dire news surrounding data breaches, but many people are at a loss as to how to respond to imminent and future threats. Pivot Point Security announces a new, on-demand webinar that provides a clear and balanced approach to a complex topic. The response has been overwhelming, proving that this topic is timely. This accessible on-demand webinar (Leveraging OWASP...) addresses technical issues in business terms.
"We've had an amazing response to our on-demand webinar released just two weeks ago!" says John Verry, Principal Consultant at Pivot Point Security (Hamilton, NJ). "I guess it just proves that people are hungry for good, solid information." The newly-released on-demand webinar (Leveraging OWASP to Reduce Web App Security Data Breach Risk) though it sounds complicated, actually developed out of a client need for simplicity. "New threats are on the rise, and regulation requirements are increasing," says Verry. "Our clients need a way to cut through the complexities. So our response is: simplify!"
"Complex problems require simple solutions." This statement forms the basis of a practical, valuable On-Demand Webinar discussing the problems of data breaches via web-based applications. While addressing technical issues, Verry also relates to the business implications - making this on-demand webinar accessible to business leaders as well as technical resources. "We focus on a 'Simplest is Best' approach," says Verry, and he supports his argument with pithy quotes from Lao-Tzu, DaVinci and Einstein, applying time-tested principles to the world of application security. "This is why I am a big fan of OWASP - the Open Web Application Security Project."
"OWASP," says Verry, "helps define the risks inherent in application security and provides a framework for addressing and then mitigating those risks. Faced with new risks emerging every day in the world of application security, Verry emphasizes the need for a top-down approach. "Managing risk in applications starts at the 'top' and propagates throughout the organization," he said. "We need to evolve beyond 'firefighting' and change the way we respond to threats."
"Obviously, we've struck a chord with people. Our marketing director can't believe the response we've had! I think part of the success is because an 'on-demand' webinar allows people the freedom to view it when they have the time. Also, we use a format that allows the viewer to click through the slides, pausing, repeating and fast-forwarding at will. The comments have been very positive!"
This brief, on-demand webinar concludes with a practical list of First Steps to help any organization understand - and improve - their risk management strategies. To view it, visit Leveraging OWASP.
Continually evolving technology, business requirements, regulations, and threats make "being secure" and "proving you're compliant" increasingly complex. The only logical response: Simplify. Pivot Point Security makes it easier to prove that you are secure and compliant by:

Focusing on the core group of security assessment services you need to do so;
Taking the time to understand your business and then optimizing our approach for your unique situation;
Delivering reports and guidance that are easily understood and acted on by both management and technical personnel; and,
Basing your assessment and recommendations on trusted, "open" (non-proprietary, non-vendor specific) guidance to simplify the process of operating and maintaining your Information Security Management System after we leave.
###