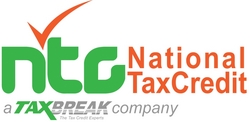 These new markets will enable us to set even higher standards of service and product quality...
Gadsden, AL (PRWEB) April 23, 2010
NTC, National Tax Credit, "a TaxBreak company" is striking forth into new markets in Los Angeles, Cleveland, Birmingham, and Memphis. The services offered provide companies with reduced income tax liability and an increase in cash flow.
"Our successes in the south and south eastern US markets have spurred us to look at new territories and markets of operation," says Shannon Scott, President and CEO of National Tax Credit (NTC), a TaxBreak Company. "These new markets, with new owner operators at the helm, will enable us to set even higher standards of service and product quality, while servicing additional territories locally."
NTC/TaxBreak is listed on INC. 500 and has been named "America's fastest growing financial services company," ranking 24th on INC. 500's list of fasting growing financial services. The company offers a suite of tax credit and Business-to-Business (b2b) products and services. NTC has already found success in several US markets, expanding distribution to seventeen US markets within the first quarter of 2010. Since its founding in 1998, NTC/TaxBreak has serviced over 75,000 client locations and continues to grow its service offerings. NTC continuously strives to achieve the main objective within its mission statement, " providing quality and value to every client, everyday!"
"We're very excited about our forays into these three states," says Scott. "We're looking forward to leveraging our experience and our partnership with the new owner operators to
provide an unprecedented quality of
products and services."
About NTC, National Tax Credit "a TaxBreak company": Founded in 1998, NTC National Tax Credit/TaxBreak was established to assist companies and their CPA's in identifying and filing tax credits and government incentives that over 90% of businesses overlook. The Company aids by identifying the options that will improve the financial performance of their clients, while lowering their effective tax rate. NTC/TaxBreak operates its patent-protected technology that efficiently discovers and processes tax credits.
To learn more, visit National Tax Credit online.
###