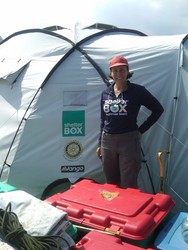 Eden stands out to me given what these individuals have been through
Lakewood Ranch, Fla. (Vocus) April 22, 2010
ShelterBox Response Team Member and graduate student, Beverly Hill, describes the flight into Port Au Prince as surreal as the landscape was dotted with tent camps, fallen buildings, and people lining the streets in their makeshift dwellings. ShelterBox is an international disaster relief agency which provides shelter and other essential equipment after a disaster.
After arriving and meeting up with her other Response Team members on Tuesday, Hill immediately got to work. ShelterBox is distributing disaster relief tents and life-saving supplies for up to 150,000 earthquake survivors in Haiti. Close to 40 ShelterBox Response Team (SRT) members, like Hill, have deployed to Haiti since the devastating earthquake struck the city. The ShelterBox Response Team is a highly trained volunteer group whose members leave at a moment's notice to ensure delivery of ShelterBoxes to the most needy.
ShelterBox has already set up numerous sites where tent camps have been created. One that struck a chord with Hill was named "Eden."
"Eden stands out to me given what these individuals have been through," said Hill. "It's an appropriate name for a place to call home compared with the conditions some of the other locals are living in where home could be a plastic tarp or a bed linen."
Hill is a graduate student at the University of South Florida, where she is pursuing a Ph.D. in applied anthropology. She is currently performing her dissertation research on humanitarian assistance and nonprofit management through a doctoral internship with ShelterBox.
Around 15,000 ShelterBoxes have arrived in Haiti and more are arriving daily. Each iconic green ShelterBox contains elements not provided by any other relief organization: a disaster relief tent for up to 10 people, stove, blankets and water filtration system, among other things.
Hill said her team is visiting several communities within Port-Au-Prince to establish more tent camps to provide shelter, warmth and dignity for as many as possible before the rainy season arrives.
"There is plenty to do," said Hill. "It is a pleasure to be a part of such a well-coordinated ongoing endeavor."
Individual tax-deductible donations to ShelterBox USA can be made at http://www.shelterboxusa.org or via text message by sending SHELTER to 20222 for a one-time $10 donation
About ShelterBox
Since its inception in 2000, ShelterBox (http://www.shelterboxusa.org) has provided shelter and dignity following over 100 disasters in more than 70 countries, bringing the organization to the forefront of international disaster relief. ShelterBox instantly responds to earthquake, volcano, flood, hurricane, cyclone, tsunami or conflict by delivering boxes of aid. In many cases ShelterBoxes have made the difference between life and death.
Each ShelterBox supplies an extended family of up to 10 people with a tent and lifesaving equipment to use while they are displaced or homeless. The contents are tailored depending on the nature and location of the disaster, with great care taken sourcing every item to ensure it is robust enough to be of lasting value. Highly trained ShelterBox Response Teams distribute boxes on the ground, working closely with local organizations, international aid agencies and Rotary clubs worldwide.
Contact:
Alan Monroe
P: 941.907.6036
E: alan(at)shelterboxusa(dot)org
###