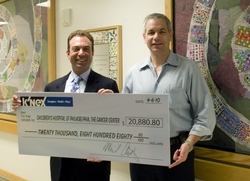 Our holiday fundraising effort on behalf of The Children's Hospital of Philadelphia was a tremendous success
Philadelphia, PA (Vocus) April 22, 2010
K'NEX, an international leader in the construction toy industry, donated more than $20,000 to The Children's Hospital of Philadelphia (CHOP) on Tuesday, April 6. The donation which was delivered by Michael Araten, President and CEO of K'NEX Brands, was the result of a holiday fundraiser in November and December 2009. During those two months K'NEX donated 10% of sales from KNEX.com to The Cancer Center at CHOP and accepted additional donations through its website.
"Our holiday fundraising effort on behalf of The Children's Hospital of Philadelphia was a tremendous success," said Michael Araten, president of K'NEX Brands. "I may have delivered the check today but K'NEX customers are the ones who really made this donation possible."
"The Cancer Center is making great strides in pediatric cancer but funding is vital to our success," said John Maris, MD, director of the Cancer Center at The Children's Hospital of Philadelphia. "We are grateful for the support of K'NEX and its customers, and will remain steadfast in our dedication to find new treatments and ultimately a cure for pediatric cancer."
The Children's Hospital of Philadelphia has been ranked # 1 for pediatric cancer care by U.S. News and World Report and is the nation's largest provider of services for pediatric cancer patients. Funds raised allow CHOP researchers to focus on finding the best non-invasive treatments and ultimately cures for every type of childhood cancer. Children's Hospital is at the forefront of developing new therapies to treat pediatric leukemia and other blood disorders, brain tumors, sarcomas, retinoblastoma, and neuroblastoma.
About K'NEX Brands
Founded in 1992, K'NEX Brands was established to make and sell what has become one of the world's leading integrated construction systems for children. Winner of over 200 international awards and recognitions, K'NEX seeks to build young minds with its exciting product line and critically acclaimed K'NEX Education program. For more information, please visit http://www.knex.com.
About The Children's Hospital of Philadelphia
The Children's Hospital of Philadelphia was founded in 1855 as the nation's first pediatric hospital. Through its long-standing commitment to providing exceptional patient care, training new generations of pediatric healthcare professionals and pioneering major research initiatives, Children's Hospital has fostered many discoveries that have benefited children worldwide. Its pediatric research program is among the largest in the country, ranking third in National Institutes of Health funding. In addition, its unique family-centered care and public service programs have brought the 430-bed hospital recognition as a leading advocate for children and adolescents. For more information, visit http://www.chop.edu.
###