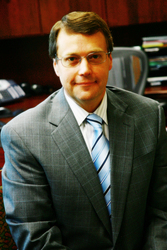 As traditional financial plans were becoming rapidly outdated and irrelevant, Alison & Hill found a way to deliver a Living Plan that updates daily and automatically as clients' circumstances change.
Eugene, OR (PRWEB) April 23, 2010
Financial services customers can now get their entire financial picture in one place by connecting all of their accounts (bank accounts, retirement accounts, outside brokerage accounts, etc.) a truly Comprehensive Wealth Management System.
Alison & Hill's recent success has provided them the opportunity to grow and offer more and better services. Here's what changed at Alison & Hill in recent months.
1. Formerly Alison LLC, Stephen D. Alison, CFP has taken on a partner, Jeffery W. Hill, and renamed the business Alison & Hill, LLC Investment Advisors. Jeffery, as Managing Partner, is primarily focused on improving all of the financial and operational systems so that the overall client experience is smooth and satisfying.
2. Stephen, the visionary leader, reinvented financial planning. He and his core staff of financial services veterans saw a need and changed their entire mode of operation, embraced the latest technology, and now offer customers a truly 360 degree view of their finances that self-updates daily.
3. Alison & Hill tripled their office space. Come by and check it out or check it out on-line!
4. David R. Igl, CFP is a new hire who brings a wealth of knowledge and experience to the business and is focused primarily on 401(k) and other retirement plan management as well as tax preparation.
5. Kay Anthony, CPA leads the new tax preparation branch of the business. Alison & Hill Tax Preparation Services, LLC is now preparing taxes for Alison & Hill's existing client base and the public at large.
6. We've added a couple other positions, as well, to support their efforts at helping people improve their financial situation.
Find out why Alison & Hill, LLC Investment Advisors is growing even in a difficult economic environment. They offer a free consultation with no obligation.
Please visit their website for greater detail, (see below) or give thema call toll free 1-800-343-3433.
Certain principals of Alison & Hill, LLC Investment Advisors offer securities through KMS Financial Services, Inc.
###