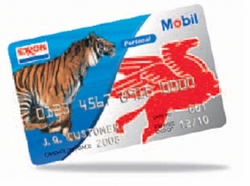 New York, NY (PRWEB) April 22, 2010
The average U.S. metro area commuter spends 36 hours a year in traffic, according to the Texas Transit Institute. To help drivers get the most from every tank of gas and a smarter way to manage fuel purchases, Citi and ExxonMobil are offering these fuel efficiency tips:
Tune Up: Routine maintenance can increase your MPG by 25%*. Schedule regular maintenance tune-ups and air filter changes.
Pump Up: Check your car's manual for your tires' optimal pressure and be sure to keep them properly inflated. Properly inflated tires have less friction between the road and the rubber, so the engine doesn't have to work as hard – boosting your gas mileage.
Cut the AC: Air conditioning can increase gas consumption by up to 30%**, especially in stop- and-go traffic. Open windows and the sun roof, and put a sun shield on your windshield when your car is parked to keep it from heating up inside.
Find Alternatives: Keep more cars off the road by carpooling with coworkers and friends, or utilizing public transportation. If your destination is nearby, walk or ride a bike.
Be Efficient: Map out the best route to get all errands done in one trip.
Drive Smart: Each year the amount of traffic congestion in small urban and rural areas increases by 11%*. Consider a fuel-efficient car, like the smart fortwo coupe.
To offer cardholders the opportunity to get even more from their ExxonMobil Personal Card, Citi is giving away a smart fortwo coupe and hundreds of ExxonMobil gift cards every week from April 1 to June 30, 2010. During the promotional period, cardholders are automatically entered for a chance to win every time they make a purchase on their ExxonMobil Personal Card at any Exxon or Mobil station, or when they apply for a card. No purchase or application necessary to enter. Complete rules and details are available at sweepstakes.exxonmobilcard.com. Consumers can also apply by calling 866.379.1010, or by visiting sweepstakes.exxonmobilcard.com.
This promotion is open to legal residents of the 50 United States and DC (Void in NJ, VA and MD and where prohibited), who are 18 or older as of date of entry. Sweepstakes ends June 30, 2010. Citicorp Credit Services, Inc. (USA) in Elk Grove Village, Illinois is the Sponsor of the ExxonMobil Personal Card smart fortwo coupe Prize Giveaway sweepstakes.
*Planet Green, http://planetgreen.discovery.com/go-green/green-cars/green-cars-top-tips.html
**Getting To Know Your Smart Car ForTwo, http://ne.edgecastcdn.net/800E0A/http://www.smartusa.com/Downloads/How-to-Maximize-Fuel-Economy.pdf
###