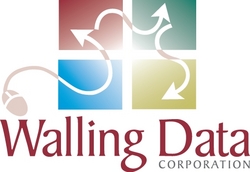 "One of our technology resellers recently said that I'm obsessed with customer service, and that is absolutely true. Fast, expert support is a key part of our culture here. It's our secret to success."
Newton, N.C. (PRWEB) April 22, 2010
Walling Data, one of North America's leading suppliers of technology services and online security products, today announced its most successful quarter in the company's fifteen year history. The company reported revenues of $2 million in the first quarter of 2010. During all of 2009 the company reported $5.8 million in revenue. The first quarter represents a tremendous growth rate of 28% moving into 2010 over the same period last year.
Luke Walling, founder and President of Walling Data, says the growth can be attributed to creative thinking on the part of his team as well as his selection of innovative, competitive products & solutions. "We are seeing dramatic growth in the Small and Medium business segment as well as an increase in Education spending. Earning each and every customer's business has become substantially more difficult during 2010 from a price competition perspective. Our completely in-house technical support and customer support staff with their concentration on customer service have had an enormous impact on our ability to close those price competitive sales, retain existing customers, and our ability to garner repeat business", Walling said. "One of our technology resellers recently said that I'm obsessed with customer service, and that is absolutely true. Fast, expert support is a key part of our culture here. It's our secret to success."
When other companies were cutting back and shutting doors, Walling Data expanded. Last year the company relocated its headquarters to a new 8,000 square foot facility in Newton, NC and expanded its staff to 25. It also added new brands to its product roster, including avast! anti-virus products, and ramped up marketing activities by increasing direct marketing efforts and creating an internal telesales team.
"Betting on a bright future with our expansion into a beautiful new facility as well as recruiting a brand new sales team in 2009 have been risks that have already paid off in 2010. Taking chances is the name of the game in any economy especially this one. In the end, our customer benefits from superior customer services, top notch technical support, and a product line that provides maximum return on investment for every single dollar spent," said Walling.
Walling Data is North America's top distributor of the popular AVG Anti-Virus product line, ranked as the number 4 security software maker in the world by user count. Walling is also the top distributor of avast! anti-virus products, and offers many other security software and hardware products to Technology Resellers, Education and Business customers across the United States. "A solid product line is absolutely key to our success now, in the future, and in the past. Good products from good companies as partners in success allow our entire team from sales, support and marketing to function efficiently, driving positive revenue growth," said Walling.
Locally, Walling provides technology support and management services to small businesses and organizations. Walling Data was named to the prestigious Inc 5000 list in 2008 and has more than 100,000 satisfied customers across North America. It has locations in Newton and Statesville, North Carolina and works with vendors globally.
For more information, visit http://www.wallingdata.com.
About Walling Data
North Carolina-based Walling Data, North America's leader in security software distribution, is the nation's first and highest volume distributor of both AVG Internet Security and avast! Internet Security products. It is widely recognized for providing unlimited, expert, US-based technical support services at no additional charge for its base of more than 100,000 reseller and end user customers. The company was founded in 1994 by Luke Walling.
Learn more about Walling Data's distribution capabilities for your product line, or become a customer at http://www.wallingdata.com.
Learn more about AVG Internet Security products at http://www.avgantivirus.com
Learn more about avast! anti-virus products at http://www.avastusa.com
###