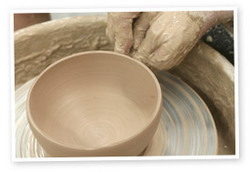 It was richly gratifying to watch our community come out in force around this event to demonstrate that even though they're far away, we haven't forgotten the needs of our brothers and sisters in Haiti
Newberg, Ore. (Vocus) April 22, 2010
A George Fox University fundraising event, "Empty Bowls: A Night for Haiti," raised in excess of $15,000 April 16 for victims still recovering from the January earthquake that devastated the island country.
An additional $3,000 was raised at the university's Mr. Bruin Pageant, a charity talent show that same evening, bringing the total raised for Haiti relief to more than $18,000.
At Empty Bowls, more than 800 turned out to the university's Klages Dining Hall to purchase ceramic bowls created by the university's students, faculty members and guest professional artists. Some 1,600 bowls were thrown during a 12-hour span in early February. They were filled with soup and sold for $12 each at the April dinner, with all proceeds going toward the Central Mennonite Committee, a worldwide ministry of Anabaptist churches that works to provide disaster relief, build stronger communities and encourage peace.
The event also included a silent auction of art pieces and eBay auctions featuring the ceramic bowls. The auctions accounted for about 15 percent of the fundraising total, according to Joey Bianco, president of the Associated Student Community, the school's student-run activities organization that helped host the event.
Also partnering in the effort was university food service provider Bon Appetit, which donated food for the fundraiser.
"It was richly gratifying to watch our community come out in force around this event to demonstrate that even though they're far away, we haven't forgotten the needs of our brothers and sisters in Haiti," said Mark Terry, an associate professor of art in the university's art major. "Resources gathered here on Friday night will go a long way in helping to rebuild broken lives."
Among the artists participating were professional potters Don Sprague, Nils and Diane Lou, and Don and Cindy Hoskisson. In all, dozens of volunteers turned out to create bowls or massage sore muscles at the February bowl-making event, according to Terry.
"Creating these bowls combined our love of art with the gift of life-saving aid," Terry said. "There are people out there who need help, and this was our way of helping them."
This marked the university's third major Empty Bowls fundraiser. In 2005, nearly $20,000 was raised to assist the "untouchable" caste on the coast of India after the tsunami. Before that, $8,000 was raised in 2001 at "Empty Bowls for Aubrey," an event to benefit a local child stricken with leukemia.
George Fox University is ranked by Forbes as one of the top 100 colleges in the country and highest among Christian colleges. George Fox is the only Christian university in the Pacific Northwest classified by U.S. News & World Report as a national university. More than 3,300 students attend classes on the university's campus in Newberg, Ore., and at teaching centers in Portland, Salem, and Redmond, Ore., and Boise, Idaho. George Fox offers bachelor's degrees in more than 40 majors, degree-completion programs for working adults, five seminary degrees, and 12 master's and doctoral degrees.
Contact:
Mark Terry
Assistant Professor of Art
503-554-2636
###