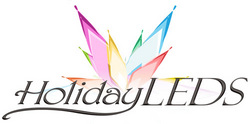 Over the past year or so we have been working on ways to improve our packaging and this year we will eliminate all plastic in our packaging and use a paper sleeve made from 100% post-consumer material
JACKSON, MI (Vocus) April 22, 2010
HolidayLEDs.com, an e-commerce retailer specializing in LED Christmas lights and other energy efficient LED decorative lighting, celebrates Earth Day 2010 by announcing its adoption of new environmentally friendly packaging and it's planting of 200 pine trees.
"I think Earth Day is a fantastic event and a great time for companies and individuals to consider and evaluate the impact that their activities have on the environment, but I think it is more important that all of us use this time to make fundamental changes in our behavior that will have a lasting impact on the environment that we all live in," said Philip C. Curtis, President of HolidayLEDs.com.
HolidayLEDs.com, which operates a Christmas light recycling program year round, constantly seeks to improve the impact its business has on the environment. "One of the biggest concerns we have about the environmental impact that we have as a company is our packaging," explained Curtis. "Over the past year or so we have been working on ways to improve our packaging and this year we will eliminate all plastic in our packaging and use a paper sleeve made from 100% post-consumer material," Curtis said. In addition to its elimination of plastic from its packaging, HolidayLEDs.com will also use a soy-based ink in the printing on the packaging. "In addition to its inherent environmentally friendly properties, the new packaging we have adopted also takes up less space which means the environmental and economic costs of shipping are also decreased," Curtis added. HolidayLEDs.com new environmentally friendly packaging added no additional cost to the product and it anticipates the smaller volume packaging will save its customers money on shipping costs.
"The new packaging we have adopted is the one major change we have adopted this year to reduce our environmental footprint, but we also like to do something special each year for Earth Day," Curtis said. Last year HolidayLEDs.com and its employees planted 200 trees on Earth Day. Curtis announced that the company will plant an additional 200 white pine trees this year for Earth Day. The pine trees where purchased from Porcupine Hollow Farms located in Central Lake, Michigan.
This year HolidayLEDs.com will also offer 30% off all of its products so new and existing customers can purchase energy-efficient LED Christmas lights and LED rope light at great prices.
For more information about HolidayLEDs.com please visit http://www.holidayleds.com.
Contact: Philip C. Curtis
Phone: 1-866-492-4330
Email: phil(at)holidayleds(dot)com
###