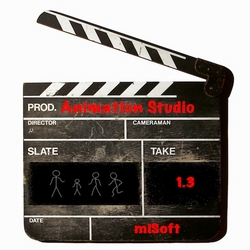 "We are seeing the dawn of a new era in Personal Animation and Filmmaking. Walt, I think, would be thrilled!"
Chicago, IL (PRWEB) April 23, 2010
miSoft, the hot new iPad and iPhone App developer, has announced App Store approval of its latest creation, Animation Studio. The next generation of Animation Apps, miSoft Animation Studio elevates the simple act of drawing with a suite of sophisticated new tools. The result? For the first time ever, any person can use a mobile device to create an Animated Film with a Soundtrack and instantly share it with the world over social media such as YouTube®. miSoft is front and center at the iPad / iPhone media revolution.
"I've been using this software in beta for weeks, it never fails to amaze me. Anyone can go from an idea, to their own little Animated Film seen all over the world in minutes! This App pushes iPhone OS, the iPad and iPhone devices, as well as social media to their limits. If Walt Disney had an iPad, Animation Studio, and a YouTube account in 1928, wow! Today, the world belongs to everyone. I can't wait to see what people everywhere will do with this technology. We are seeing the dawn of a new era in Personal Animation and Filmmaking. Walt, I think, would be thrilled!" said Daniel Fontana, CEO, miSoft, LLC.
Users do not even need drawing skills, Animation can be made by importing pics or graphics from the iPhone OS Gallery. The artist can choose to add sound and upload to the world in seconds. Still pics can even be posted to TwitPic®. In addition, Animation Studio includes the miSoft patent pending Virtual Stylus, the revolutionary technology for drawing and painting on a touch screen device without a finger covering the image. Animation Studio runs on all Apple® iPhone OS devices for one low price and is available on the iTunes® App Store now.
About miSoft
miSoft® makes digital art and entertainment products in the iPad® and iPhone® App space on Apple's iTunes Digital Marketplace. CEO Daniel Fontana, a former Disney® Animation creative professional with decades of computer industry experience, holds multiple industry patents in this technology. He's excited to now turn his attention to iPad and iPhone Apps because, he says "that's where the action is."
###