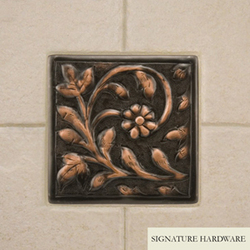 Accent wall tiles make it easy for homeowners to customize a kitchen backsplash or bathroom wall.
Erlanger, Kentucky (PRWEB) April 23, 2010
Exclusive to Signature Hardware, new handcrafted decorative metal wall tiles continue the tradition of high quality products found in the company's Whittington Collection. Adding a few metal tiles is an easy and inexpensive way to update a kitchen or bathroom without having to completely remodel.
These accent wall tiles make it easy for homeowners to customize a kitchen backsplash or bathroom wall. Made from solid bronze, solid copper, solid brass or aluminum material, the tiles are both durable and aesthetically pleasing. The solid bronze, solid brass and aluminum tiles are available in 2-inch and 4-inch sizes. There is also an optional metal frame sold to accent the 4-inch tiles. The solid copper tiles are available in 4-inch and impressive 8-inch sizes.
Customers can choose from a variety of stylish designs that complement bathroom or kitchen decors:

Unadorned for a clean look or to break up a pattern.
Floral designs, including dogwood blossoms and ivy, are fitting for bath or kitchen areas.
Food themes, such as eggplant, grapes, pear, or mangoes are a classy way to say "Let's eat."
Abstract designs, comprised of suns or fleur-de-lis, bring a striking design element to any room.
The accent tiles come in finishes that will enrich any decor. An aluminum wall tile featuring a Chevron design is perfect for the modern kitchen. Bronze patina, burnished bronze, burnished brass and antique copper finishes bring warmth and add richness to tile work. To keep bronze and copper finishes looking their best, Signature Hardware also carries cleaning and repair kits and patina protector.
Multiple sizes, unique designs and accent frames can blend in an endless number of combinations for customers to design a style that is as unique as they are. Customers can complete the look of a state-of-the-art kitchen with Signature Hardware's stainless steel range hoods, farmhouse sinks, and Whittington Collection sink faucets.
These items and more can be seen online or in the company's free catalog. Customers are invited to order a free catalog online or by calling customer service toll free at 1-866-855-2284.
About Signature Hardware
Signature Hardware is a direct merchant of antique-style reproduction fixtures for the home. Working directly with the factory and selling direct to the end consumer, they are able to provide superior service and exceptional value. The firm distributes its products nationwide, and sells direct to the consumer by the use of print catalogs, their retail showroom located in the Cincinnati area, and over the web.
Contact Information
Signature Hardware
866-855-2284
(High-resolution images available; interviews granted upon request.)
###