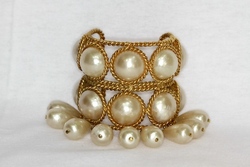 all of my jewelry is designed by the most brilliant jewelry designers of the 20th century
Calabasas, CA (PRWEB) April 24, 2010
In an economy when most people do not have jewelry purchases at the top of their lists, Jody Vialy Jewelry continues to thrive online and in several retail locations throughout Los Angeles.
When asked what is the secret to her success? She answers, "All of my jewelry is designed by the most brilliant jewelry designers of the 20th century. They designed for Cartier, Van Cleefs, Harry Winston and many more of the great jewelry houses for decades in the European capitols prior to World War II. Most of these geniuses were forced to flee Europe and start their lives over".
She continues, "Many landed in New York City, with nothing but their world famous jewelry designs stored safely away in their minds. Unable to purchase the prohibitively expensive stones and materials they were used to working with, they began to work with affordable materials. They started businesses using their own names, no longer in the shadows."
Thus was the costume jewelry business born. Some of the names are more well known than others, like Chanel and Schiaparelli. But there are others, like Marcel Boucher, Madame Gripoix, Alfred Phillipe, Eisenberg, Verrechio and so many more.
Collecting important pieces of couture costume vintage jewelry has been compared to collecting artwork. The pieces can be rare, one of a kind and must have provenance. Vintage collections have exhibited at The Louvre and other world class museums.
She also added, "Vintage jewelry produced between 1930 to 1980 was better designed and better made than most fine jewelry is made today. How many pairs of poor quality, machine made diamond stud earrings are out there? Worse yet, at prices no one can afford in this climate. I'll take the costume jewelry originally designed for kings, queens, empresses, duchesses, and movie stars for a century over the machine made stud earrings any day. And I'm happy to say, so will my customers."
Vintage jewelry has found its niche in the jewelry market. With her passion for this unique wearable art, Jody Vialy is bringing the glory days of Hollywood and Paris back with her fabulous collection.
###