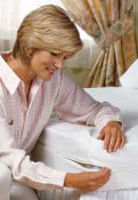 Duluth, GA (PRWEB) April 27, 2010
While many online and specialty catalog companies want your business, most are strict about supporting you after the sale when you believe you need to return an item. National Allergy has just implemented an Unconditional Satisfaction Guarantee, so its customers can order with complete confidence knowing that their purchase can be returned for a replacement or a refund right away or any time in the future.
"Companies offering a 100% Unconditional Satisfaction Guarantee on all the products they sell are rare these days, but National Allergy Supply wants its customers to be able to order the allergy relief supplies they need with complete confidence", says Tom Short, President and CEO.
Allergy physicians and many other doctors around the country know National Allergy as the company they trust to provide the allergen avoidance products their patients need when suffering from allergies, asthma or chronic sinusitis. These same doctors also trust National Allergy as a source for high quality, American- made dust mite barrier pillow and mattress covers sold under the BedCare brand.
It is these superior bed covers for people who suffer with dust mite allergies that doctors recommend most, because they are both effective in helping their patients avoid this powerful allergen while they sleep and are comfortable to sleep on year round. National Allergy manufactures its BedCare dust mite barrier pillow and mattress covers in its own plant in Cornelia, Georgia where employee-owners cut and sew these items to precise specifications required by the physician community that recommends them.
Nearly all of their dust mite bedding is backed by a Lifetime Warranty. National Allergy Supply is also the most popular source for the highly rated Whirlpool room air purifiers. A complete listing of all of their products can be found on their popular website - http://www.natlallergy.com.
###