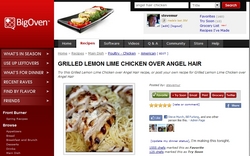 Anyone who's invited friends to a dinner party knows the dilemma -- what do they most like to eat?
Seattle, Washington (PRWEB) April 22, 2010
BigOven.com, the social network about food that makes people better cooks, announces the immediate availability of Facebook "Like" buttons across every recipe and food glossary article on the site. BigOven and Facebook make it free and easy for anyone to share recipes and foods they like, and discover the food tastes of their friends.
"Anyone who's invited friends or relatives to a dinner party knows the dilemma – what do my dinner guests most like to eat? BigOven and Facebook help solve this with a fun and easy way to share food tastes", said Steve Murch, BigOven.com's CEO. "Since inception, BigOven has been focused on the social aspect of cooking. We're pleased to be one of the first recipe sites to release 'Like' buttons across all our content, continuing to bring social innovations to the world of cooking."
How to Use It
Visitors can simply visit http://www.bigoven.com and use the search features to find a recipe (e.g., Oatmeal Raisin Cookies) or food (e.g., steak) that they particularly enjoy. Then, click on the "Like" button. This preference will be instantly posted to the user's Facebook wall. In addition, they will instantly be able to find this recipe again from within Facebook's search box.
Most interestingly, over time, users will be able to discover the food preferences of their friends, what they may have in common and where they differ. It's all free.
BigOven.com joins CNN.com, ESPN.com, IMDB.com and many other major sites in adding Facebook Like buttons, announced yesterday.
About BigOven.com
BigOven.com is the social network that makes you a better cook. BigOven's new cooking app for the Apple® iPad is a Top 50-selling iPad app, has been chosen as a "Staff Favorite" by Apple, and has recently been recommended by the New York Times and Forbes.com. BigOven's iPhone and Android apps have been downloaded more than three million times. BigOven.com is also a finalist for Seattle's "Best Bootstrapped Startup" in 2010 (vote here).
BigOven.com is free to join, and free to post recipes, photos and cooking videos, at http://www.bigoven.com. The Seattle-based firm was founded in 2004 by Steve Murch, an executive from Microsoft, Expedia, and VacationSpot.com. BigOven.com now counts over 800,000 members from around the world, with more than 1,000 people joining daily. With over 170,000 recipes, hundreds of cooking videos, and thousands of cooking questions and answers it's where every cook can go to get unstuck for dinner.
###