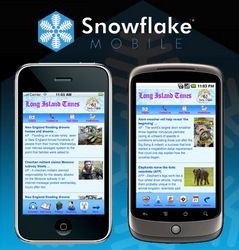 1.2 billions phones shipped in 2009. Of that nearly 190 million were smart phones. By 2010 that number is predicted to be over 250 million. - Information Week
Valencia, CA (PRWEB) April 27, 2010
Snowflake Mobile™ announced the debut of its platform that allows businesses to build and deploy their own mobile application, customizing it to fit their brand with Snowflake's templates and a library of widgets such as weather, feedback, micro-blogs, coupons, etc. Content can be driven by RSS/Data feeds, a content management system, or other sources like Twitter and YouTube. In addition, web-based configuration management makes it easy to change content and have it modified immediately in the mobile application. For holidays and special events, users may create different versions and schedule them for release on specified dates. Once configured, a single live build deploys the custom application to multiple platforms.
The dramatic upsurge in the number of consumers who use smart phones and other mobile devices has been met with a corresponding shift to mobile advertising. According to Information Week, over 250 million smart phones will be shipped in 2010, making mobile advertising and content an important revenue stream for businesses. With Snowflake Mobile™, any business can take advantage of these revenue streams while providing their customers with an exciting user experience.
About Snowflake Mobile™:
Snowflake Mobile™ is a division of Neasi-Weber International (NWI), a software company that has served the media and publishing industries for 33 years. In 2009, NWI formed Snowflake Mobile™ to help companies of all types enter the mobile arena.
###