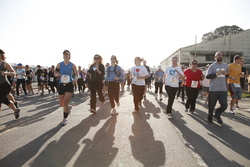 "We hope the runners had as much fun as we had in organizing this event and we are honored by the excellent turnout that will go a long way to help us continue to assist disadvantaged youth in our community," Jeff Landry, Vice President of The Guardsmen
San Francisco, CA (PRWEB) April 22, 2010
Over 2,500 people participated in The Presidio 10 on Sunday, April 18th, reflecting the race's reputation as one of San Francisco's most unique community-oriented and volunteer organized races. One hundred percent of the net proceeds were donated to The Guardsmen and The Ashlyn Dyer Foundation for Neurological Research and Support and, in keeping with the spirit of the race, the winner of the Men's 10-Mile race, Josh Sohn, has chosen to donate his first place prize of a $5,000 Life Fitness treadmill to the Veteran's Administration Hospital in Menlo Park.
Sponsored by The Guardsmen — in partnership with local philanthropic businesses — the Presidio 10 offered passionate athletes and compassionate individuals the opportunity to enjoy one of the most scenic running courses in the US, to build new friendships with fellow runners, and to give back to two great local causes — all while minimizing impact to the environment.
The Presidio 10 consisted of separate 10-Mile and 10-Kilometer races that traversed Crissy Field, the Presidio and Presidio bluffs, and featured a round trip across the Golden Gate Bridge. Fierce running competitors and casual runners alike flocked to one of San Francisco's most unique outdoor events. The post-race festival on Crissy Field included hot breakfast, live music, and a host of vendor-provided amenities all under the backdrop of the Golden Gate Bridge. Josh Sohn and Angela Strange were awarded first place medals for the men's and women's 10-Mile race, while Jeff Wilson and Kristi Rossi were the first place winners of the men's and women's 10-Kilometer race.
The San Francisco Giants and RRCA (Road Runners Club of America) are just two of the more than 50 partners that made this year's event possible, and the Presidio 10 was selected by the Giants as the pre-race partner for their larger format city race, The AT&T Giant Race Half Marathon and Plate to Plate 5k (June 12th, 2010). The RRCA once again selected the Presidio 10-Mile course as their State Championship race.
The organizers of this year's event furthered The Presidio 10's green living and sustainability initiative by partnering with commercial and residential water filtration leader Everpure. Filtered and purified water was available in 100% recyclable and compostable cups, eliminating the need for thousands of plastic water bottles. Everpure's filtered and purified water was also used combined with Gatorade to offer participants on-course sports beverage, but without the use of plastic bottles. The race organizers supported sustainable environmental practices by utilizing compostable, re-usable, or recyclable materials and by aligning with products that minimize impacts to natural resources.
Other key partners for this year's race included: Life Fitness, Michael Miller Insurance, Ivar, Basic Training, Think Thin, Clif Bar, Somersault Snack Co., Pop Chips, Sports Basement, Gunderson Dettmer, Lululemon Athletica, Hint Water, Asqew Grill, Peets Cofee & Tea, Equinox, Purcell Murray, and Excellent Packaging and Supply.
Please visit http://presidio10.com for more information, photos and video footage.
About The Guardsmen
This all-volunteer organization, founded in 1947, provides access to high-quality educational and outdoor activities for inner-city youth. The opportunities created through The Guardsmen's scholarship and campership programs every year give children who otherwise would not have a chance at success the opportunity to excel as productive members of society. For more information on The Guardsmen, please visit http://guardsmen.org.
About The Ashlyn Dyer Foundation
The donation of Ashlyn Dyer's organs gave the gift of life to many. In this same spirit, The Ashlyn Dyer Foundation for Neurological Research and Support has been created to honor her memory by making a positive impact for others affected by traumatic brain injuries. For more information http://www.ashlyndyer.com.
# # #